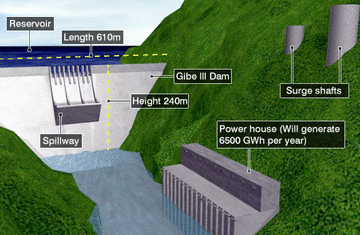 Above: The Gibe III dam is under construction on the Omo
River, approximately 300km southwest of Addis Ababa. It is the
third in a series of cascading hydroelectric projects in the region.
(Source: BBC)
Opinion: Ethiopia's Gibe III dam: a balanced assessment
LA Times
A project its size will have negative consequences, but Ethiopians
should be better off once the hydroelectric dam is up and running.
By Seleshi Bekele and Jonathan Lautze
June 4, 2009
The Gilgel Gibe III hydroelectric dam under construction in Ethiopia is no small piece of infrastructure. It holds the potential to fundamentally alter flow patterns in the Omo River watershed and will cost about $2 billion to build. It will indeed have impacts — both positive and negative — on the environment and people living in the watershed.

Yet, do these facts make the project inherently bad? Does the fact that the investment is big and costly doom it to failure? In her May 14 Times Op-Ed article, Lori Pottinger uses such thinking to argue that the African Development Bank and U.S. government should not finance the dam's construction and instead look for alternatives to address Ethiopia's water and environmental needs.
Big dam, bigger problems
By Lori Pottinger
May 14, 2009
Right now, the Obama administration is participating in its first annual meeting of the African Development Bank, which is mandated to fund critical infrastructure for poor African nations. On the agenda is financing one of the biggest projects ever considered by the bank, the $2.1-billion Gilgel Gibe III dam in Ethiopia. Read more.
Nazret.com: Ethiopia – Friends of Gibe Full steam ahead
Leftist environmental wackos are hard at work to stop Ethiopia from developing and nazret is re-running the following article to reinforce its strong support of the construction of Gilgel Gibe III. Today another leftist writes in the Los Angeles Times trying to stop Ethiopia from this project. Don't let foreigners dictate what Ethiopia can and can't do. It is with the utmost humility that I ask our readers and experts in this field to submit articles to the international media and also contact African Development Bank in support of Gilgel Gibe. We must win the media war waged by the so-called environmentalists who quite honestly don't give a squat about Ethiopia. As Ato Semon beautifully crafted in the article below Full steam ahead. Read the piece at Nazret.com.
What do you say?