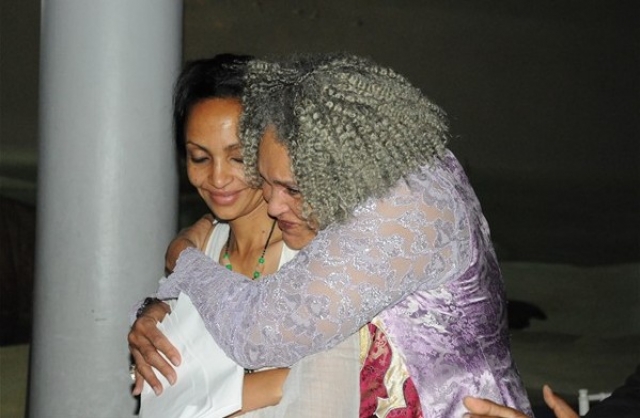 Opinion
By: Charlayne Hunter-Gault | The Root
Published: Tuesday, May 15, 2012
Crying onstage in front of a crowd is not my thing, but a few days ago, as I stood next to Serkalem Fasil, I couldn't hold back my tears. It was a bittersweet moment because Fasil had just received the prestigious PEN/Barbara Goldsmith Freedom to Write Award on behalf of her husband, Eskinder Nega.
He faces life in prison on charges of terrorism and incitement to violent revolt after writing an article discussing the implications of the Arab Spring uprising for democracy in Ethiopia. And Nega is not alone in being on the receiving end of an ongoing government crackdown on independent journalists in Ethiopia, many of whom are also being silenced by arrests and imprisonment. Many have fled the country to keep hope (and themselves) alive.
As the emcee for the evening, I was scheduled to make brief remarks and close the evening, but instead I was moved to ask the indulgence of the audience of some 500 writers, editors and publishers. Then I poured out my heart, so full, since this was the first time I had seen Fasil since 2007, when I visited her in Kality Prison, just outside of Addis Ababa.
Kality is where she and her husband, Nega, were then serving time for what the government called terrorism but which was, in fact, an instance in which independent journalists were doing their job reporting the news as honestly as they could. In this case they were reporting on the government's crackdown on opposition parties in the 2005 parliamentary election in which some 200 opposition supporters were killed, followed by mass arrests of journalists and others not aligned with the government…
As a mother, I was keen to know about their son. Fasil told me through an interpreter that today he is strong. I asked his name, and she told me with the kind of smile that brings more moisture back to my eyes, "His name is Nafkot, which means 'longing.' "
It is time for me to return to Ethiopia and try to see the prime minister, to plead yet again for the journalists' freedom and for their right to free expression. And maybe, just maybe, in the interim, when Prime Minister Zenawi attends a G-8 Summit Food Security at Camp David on May 19, American officials can weigh in, too, on the importance not only of strategic partnerships but also of freedom of speech in a democracy.
Read the full article at The Root.
—
Video: PEN America Honors Eskinder Nega