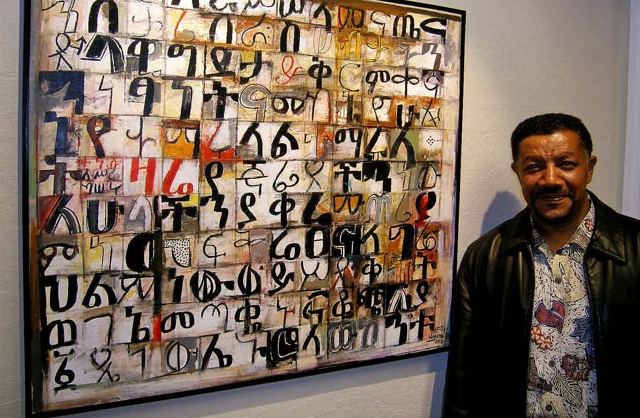 Tadias Magazine
Events News
Published: Monday, May 14, 2012
New York (TADIAS) – An exhibition of recent paintings by the Ethiopian-born artist Wosene Kosrof will open at Skoto Gallery in New York this week. This will be Wosene's fifth solo exhibition at the gallery.
The show entitled Word: Future Tense is the a continuation of his Word Play series in which he combines written language and universal sounds anchored with an Amharic script. Wosene's work is dense with visual complexity that celebrates text traditions from around the world. He forgets conventional meanings of words, and instead explores their aesthetic, sensual, and visual content to speak to a universal audience.
"The Ethiopian writing is one concept of exaggeration that I use in my paintings to express a global message that is political, cultural, and social," he said in a recent interview with TADIAS. "I just returned from Japan, for example, where I had an exhibition and my intention is to show that we're all connected." He added: "If you look carefully you would notice that our music, jazz and other visual cultures are also embedded in my work."
Wosene, who was raised in Ethiopia but has lived in the United States for over three decades, uses Amharic as a core compositional element. "I came to America during Jimmy Carter's era," he said. "That wasn't that far back. It was only 30 years ago." His work draws from his personal memories. "It's really a Fidel Chewata," Wosene said, referring to the Amharic translation of Word Play.
What inspires his paintings? "Movies, bookstores, photography, landscape, fashion, colors, conversations," he said. "I am a loner so listening to jazz, sitting at cafes, watching street lights, people, car movements, all give continuous formation to my paintings."
Wosene will be present at the opening reception on Thursday, May 17th, 6-8pm.
—
If You Go:
SKOTO GALLERY
529 West 20th Street, 5FL.
New York, NY 10011
212-352 8058
info@skotogallery.com
www.skotogallery.com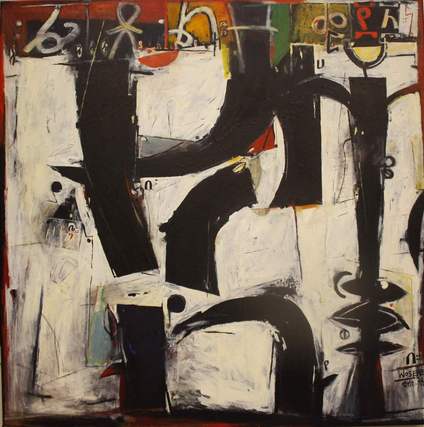 Words: Future Tense, 2012, acrylic on canvas, 34×34 inches
—
Related:
Wosene Kosrof's Exhibition 'Wordplay' at Gallery of African Art in London (Video)