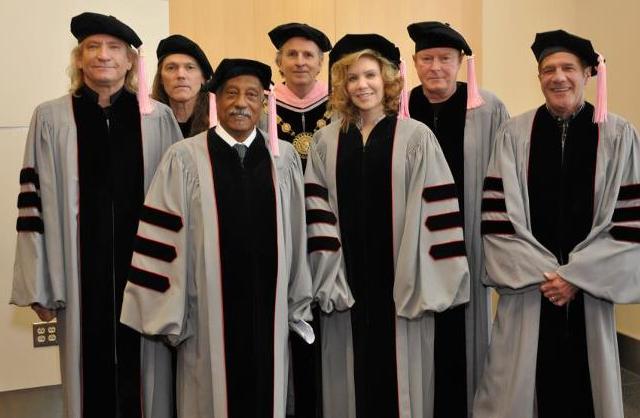 Tadias Magazine
By Tadias Staff
Updated: Tuesday, May 15, 2012
New York (TADIAS) – Influential musician and "Father of Ethio-Jazz" Mulatu Astatke has been awarded an honorary doctorate in music degree from his alma mater The Berklee College of Music – the largest independent college of contemporary music located in Boston. The artist was honored along with the Eagles and Grammy Award-winning country singer Alison Krauss during the school's commencement ceremony on Saturday.
Keeping with four decades of tradition, where Berklee has been presenting honorary degrees to prominent figures in the music industry, students paid tribute to Mulatu, Krauss and the Eagles with a concert featuring their music. More than 900 students from 58 countries graduated from Berklee this year, according to AP.
"At Berklee, I was immersed in a motivating and creative academic environment where Ethio-jazz was conceived," Mulatu told the graduating class at a ceremony the night before graduation. "You now have the skills and the education to create new innovations in music . . . You are a selected few with a special gift, and we all have great expectations for you".
Mulatu was one of the first African students to attend Boston's prestigious music college, where he studied vibraphone and percussion in the 1960′s.
"This year's honorary doctorate recipients were recognized for their achievements in contemporary music, for their enduring contributions to popular culture, and for the influence their careers and music have had over Berklee's international student body," the school said in a statement. "The Eagles, Krauss, and Astatke join the ranks of such esteemed recipients as Duke Ellington (the first, in 1971), Aretha Franklin, Dizzy Gillespie, Quincy Jones, Smokey Robinson, David Bowie, Bonnie Raitt, Count Basie, Sting, Loretta Lynn, B.B. King, Billy Joel, Chaka Khan, Steven Tyler, and Patti LaBelle."
Berklee says its alumni have won a total of 221 Grammys.
—
Related:
Eagles, Alison Krauss, Ethiopia's Mulatu Astatke honored at Boston music school (AP)