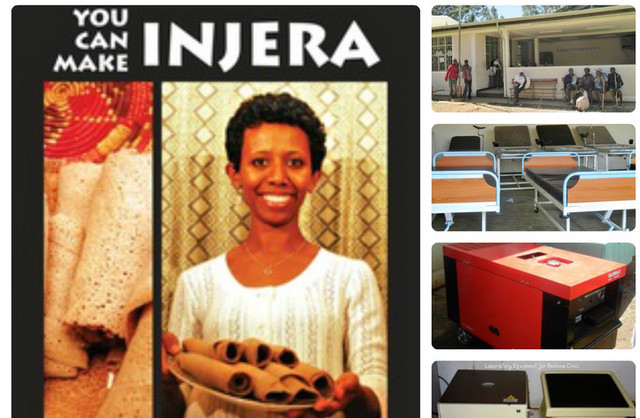 Tadias Magazine
Events News
Published: Wednesday, May 5th, 2013
Atlanta (TADIAS) — The U.S. based non-profit organization Clinic at a Time that works with rural public hospitals in Ethiopia to expand their existing facility and services, announced that it will hold a fundraiser this weekend at Lona Gallery in downtown Lawrenceville, Georgia.
The founder, Mulusew Yayehyirad, a nurse who lives in Madison, Wisconsin, said the event is scheduled for Saturday, May 18th; it's titled "A Night of Hope" and will raise funds for a construction of four room maternal care recovery unit inside Bichena Clinic in the Gojam region.
The dinner is being hosted by Kindred and Meredith Howard, adoptive parents of twin brothers from northwestern Ethiopia, who lost their mother due to birth complications and lack of medical attention.
"What if Marta [the twins' late mother] had access to maternity care?" the couple said in a statement. "What if there was a clinic nearby that Marta could have gone to while in labor instead of giving birth in her mud hut alone, while her husband was walking for hours to find the closest midwife to help her?"
"Our goal is to reduce these problems by assisting to improve what's already working," Mulu said.
According to the UN Population Fund 1 in 14 Ethiopian women face the risk of death during pregnancy and childbirth due to largely preventable health injuries. "To be honest, for me the clinics have not changed much since I was a child," added Mulu who grew up in the region. "It's mostly as I remember it."
"People travel for days to get to the clinic, but they have to sit outside in the sun once they get there because that's the waiting area," Mulu said. "If we can build a patient waiting space, that's one progress. In addition if we include laboratory equipment, delivery beds, etc, all contribute to the betterment of the present resource."
Besides her book You Can Make Injera, which the nurse authored to generate revenue for Clinic at a Time, Mulu pointed out that the event will also feature Ethiopian cuisine catered by Piassa Restaurant and American food by Mimi Maumus.
–
If You Go:
A Night Of Hope: Fundraiser Benefitting Clinic at a Time, Inc.
Hosted By: Kindred & Meredith Howard
Saturday, May 18, 2013 from 7:00 PM to 10:00 PM (EDT)
Lawrenceville, GA
Click here to buy tickets.
Learn more at www.clinicatatime.org.
—
Join the conversation on Twitter and Facebook.