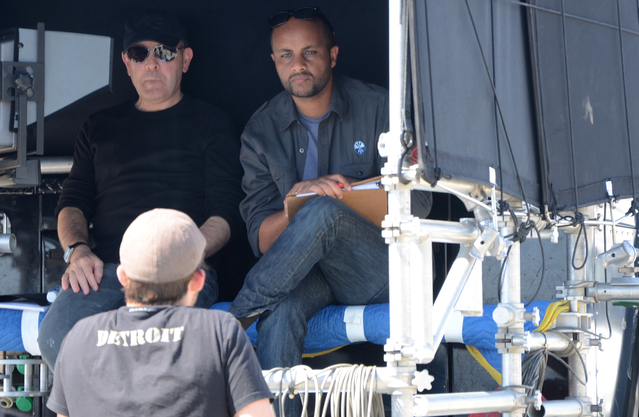 Tadias Magazine
By Tadias Staff
Published: Thursday, May 16th, 2013
New York (TADIAS) – David Mesfin may no longer have the dreadlocks that he used to sport when he was in college, but he still has a cat named Kaya, and Bob Marley is his favorite musician. "I grew up listening to Bob," he shared in a recent interview with Tadias Magazine. David is also the Associate Creative Director behind a new Hyundai TV ad featuring the remix of the reggae legend's popular song Three Little Birds produced by Stephen Marley and Jason Bentley.
"It was an honor to work on the spot with Bob's music," David said.
Hyundai's television commercials (see videos below), which will begin airing in various U.S. markets this month, highlight "Assurance Connected Care" to the car manufacturer's customers. The TV ads are designed to enhance confidence and the feeling of security among the brand's drivers with proactive protection and services provided by the company's Blue Link telematics platform.
"My copywriter partner Nick Flora and I wrote and produced four spots featuring the Marley track," David said. "The idea we came up with uses ordinary street signs that communicate assurance and safety to new Hyundai owners, letting them know that everything is going to be all right, hence the music track from Bob Marley."
"It's amazing how much work goes in to a 30 or 60 seconds spot," David said, speaking about his role in the project, which started months ago with concept development, presentation to client, producing and editing the final product along with the director, producers, music editors, editorial house and CG companies. "Overall what you are left with is the knowledge you have accumulated through the process, not to mention, the wonderful people along the way," he added.
David also engineered the high-profile "Hyundai Epic Playdate" Super Bowl advertisement that aired nationally in February 2013. "That was a herculean task given the difficulty and amount of work that needed to be produced in a short amount of time," he said. "But overall my team and I are truly happy with the end result."
"How does it feel to see your work being shown during Super Bowl?" we asked. After all, it is the most watched television event of the year in the United States.
"By far it's the most humbling experience," he answered. "I watched it at home with my 8 year old son and wife." David added: "The one minute Epic Playdate Spot played right before the kick off. The commercial featured the band, The Flaming Lips. They performed their original song written for the commercial called, 'Sun Blows Up Today' while a family had the most epic day ever."
David's career in advertising began in 1986 in Addis Ababa, Ethiopia, where he was born and raised. "I know it sounds like a long time ago but I was only 12 years old at the time," he said. "I used to spend a lot of time at a firm called Neon Addis — a design and advertising office. There I was exposed to many forms of visual communications, print ads, billboards, neon signs and more."
Later, after he moved to the U.S. and commenced college in the 90s, David said he knew exactly what he wanted to do in life. He graduated with a BFA degree in Visual Communication from California State University, Long Beach. "I have been enjoying this wonderful field for quite some time now," he said. "Thus far I have worked with multiple agencies and clients such as Hyundai, Honda, Toyota, Isuzu, Farmers Insurance, Neutrogena, Network Associates, La-Z-Boy, Mandalay Bay, Walt Disney, Sony, Coldwell Banker, LA Phil, Los Angeles Master Chorale, Adidas, Oakley and MOCA."
What guides David's art in terms of creativity? "Have a compelling message and idea that can solve the problem in a unique and interesting way," he said.
As to those who want to follow in his footsteps? "Be patient and have an open mind," David advised. "It's a very competitive and subjective field, so proceed with caution. If you really want it, give it all, and give it your best."
The remix Bob Marley track is available to download for free on Youtube.com/hyundai.
Watch: Making of "Three Little Birds" Remix Hyundai AD (Hyundai USA)

Client: Hyundai Motor America
Agency: INNOCEAN USA
Product: Assurance Connected Care TV Spot
Executive Creative Director: Greg Braun
Creative Director: Max Godsil
Creative Director: Robert Pins
Associate Creative Director, Art: David Mesfin
Senior Copywriter: Nick Flora
VP, Director of Integrated Production: Jamil Bardowell
Producer: Curt O'Brien
PRODUCTION CREDITS
Production Company: Biscuit Filmworks
Director: Philippe Andre
DP: Alex LaMarque
Editorial Company: Arcade Editorial
Editor: Paul Martinez
Editor: Christjan Jordan
Executive Producer: Nicole Visram
Music company: Stimmung
Animation/Graphics Co.: yU+CO
Telecine Place: CO3
With Whom: Stefan Sonnenfeld
Online Place: Airship Post
With Whom: Matt Lydecker
Watch: 2013 Super Bowl Hyundai Santa Fe Big Game Ad "Epic Playdate" (Hyundai USA)

—-
Join the conversation on Twitter and Facebook.