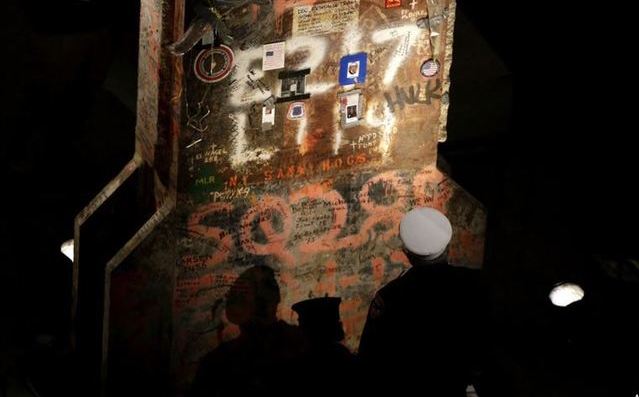 By Adam Phillips
May 15, 2014 9:14 PM
NEW YORK — Ground Zero, the site of the former World Trade Center in New York City, was a place of grief and closure, celebration and solemnity on Thursday. On hand to dedicate the long-awaited National September 11 Memorial Museum was President Barack Obama and other dignitaries who joined survivors, emergency responders and recovery workers, as well as the loved ones of those killed in the attacks in 2001.
An atmosphere of shared mourning and civic pride filled the cavernous auditorium below ground as the Young People's Chorus of New York City sang the national anthem at the start of the hour-long ceremony.
Next, former New York City mayor and museum chairman Michael Bloomberg set forth the context for the estimated 700 onlookers and participants at the event.
"This museum, built on the site of rubble and ruins, is not filled with the faces, the stories and the memories of our common grief and our common hope," he said. "It's a witness to tragedy. It is an affirmation of human life."
Memorial museum tells stories both grand, intimate
President Obama spoke of the memorial museum and how its many mementos and artifacts, photographs and oral history tributes, and chunks of wreckage and rubble, are a way to tell the human stories of 9/11 and its aftermath to future generations.
"[It tells the stories] … of coworkers, who led others to safety, of passengers who stormed the cockpit, our men and women in uniform who rushed into an inferno, our first responders who charged up those stairs, a generation of service members … who served with honor in more than a decade of war."
Intimate personal objects bring the tragedy home in a wrenching way. A twisted watch whose hands stopped at the moment the plane hit the building; a tarnished Saint Christopher's medal; a teddy bear.
Florence Jones donated the shoes she was wearing that day. She had walked down to safety from the World Trade Center's 75th floor, then another 50 blocks to a friend's office. When she heard that the museum was looking for mementos of that day, she remembered her ruined shoes, which she had kept in a plastic container ever since.
"And when I took them out they still had the smell on them from that awful day. And I knew I would never wear them again. So I decided to donate them here," she recalled. "I wanted my nieces and my nephew and every person that asked what happened to see them and maybe understand a little bit better what it felt like to be 'us' on that day."
Hard history, "Amazing Grace," shafts of light
These and other bittersweet speeches and testimonials – from the mother whose son died carrying people to safety, from a firefighter who was trapped in a stairway with his colleagues but survived, to government leaders who did their best to get a handle on the catastrophe as it occurred and tried to help – made for an emotionally challenging ceremony.
Many seemed both touched and relieved when Tony Award-winning actress LaChanze – whose husband died in the attack – came to the podium and sang Amazing Grace.
Near the end of the ceremony, Bloomberg seemed to speak for many attendees and the millions of visitors who are expected to visit the museum when he said, "There are hard history lessons to be learned, but also shafts of light that can illuminate the days ahead." The museum opens to the public May 21.
—
Join the conversation on Twitter and Facebook.