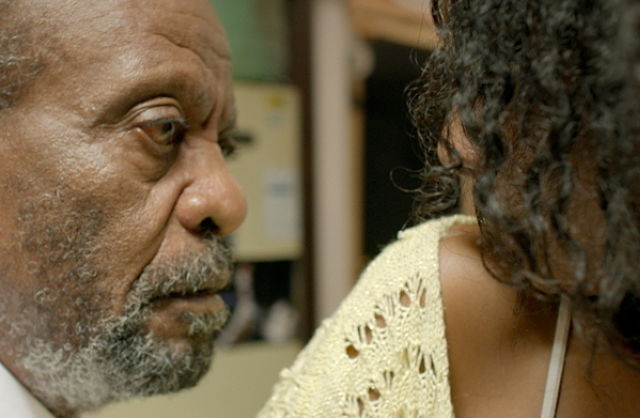 Tadias Magazine
By Tadias Staff
Published: Monday, May 18th, 2015
New York (TADIAS) — The renown Ethiopian actor Debebe Eshetu plays the lead role in the new award-winning Ethiopian-Israeli movie Red Leaves (debut film by director Bazi Gete) that explores complicated issues related to immigration, family, culture, and the process of adopting to a new country.
The film, which screens at the opening of the 12th annual Sheba Film Festival at the JCC in New York on Tuesday, May 19th, tells the story of a recently widowed "Seventy-four-year-old Meseganio Tadela [who] immigrated to Israel from Ethiopia with his family 28 years ago," according to the synopsis.
"He chooses to zealously retain his culture, and in effect talks very little and hardly speaks Hebrew. After losing his wife, Meseganio sets out on a journey that leads him through his children's homes. As the harsh reality begins to hit him that he belongs to a rapidly disappearing class that believes in preserving Ethiopian culture, he struggles to survive according to his own rules."
Debebe — whose international credits include a role in the 1973 US film Shaft in Africa — is the only professional actor featured in the 80 minute movie in Hebrew & Amharic with English subtitles made in 2014.
"Other than lead actor Debebe Eshetu, Gete cast non-actors in his debut feature, which he shot in a documentary style mainly in Tel Aviv," adds Screen Daily. "Each actor knew where he was going and we simply rolled and kept on filming through the scene. "I think it was a wise choice. This almost documentary cinematic style serves the film's voice and preserves its authenticity," Gete says."
Other films scheduled to screen at the 2015 Sheba Film Festival include Asni: The Life of Asnaketch Worku, Courage, Passion & Glamor in Ethiopia by director Rachel Samuel of Ethiopia and The Village of Peace by Israeli filmmakers Ben Schuder & Niko Philipides.
—
If You Go:
12th annual Sheba Film Festival
Venue: JCC Manhattan
334 Amsterdam Ave
New York. NY 10023
Venue: TSION CAFE
763 St.Nicholas Ave
(Btwen 148 St& 149 streets)
New York, NY 10031
More info & tickets at www.binacf.org.
Related:
Preview: 2015 Sheba Film Festival
Join the conversation on Twitter and Facebook.