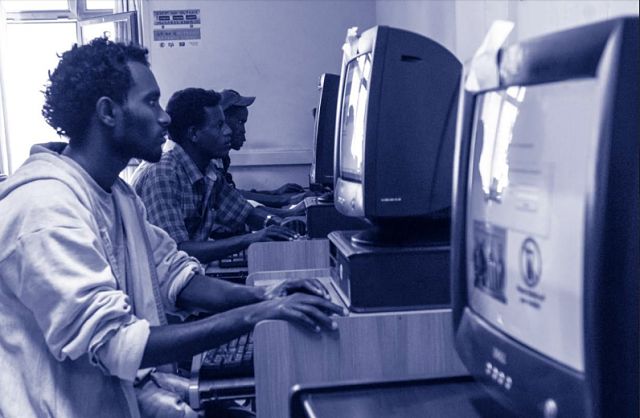 Tadias Magazine
By Tadias Staff
Published: Wednesday, May 18th, 2016
New York (TADIAS) — A new report on online speech and debates in Ethiopia and the Diaspora entitled Mechachal (translated as "tolerance" in Amharic) following a two-year collaborative project by researchers at the University of Oxford and Addis Ababa University is to be released shortly.
An advance preview copy of the final report noted that the project aimed to go "beyond anecdotal evidence that has dominated media debates" concerning the dissemination of online hate speech, and instead presented "a strong empirical base to understand how prevalent the most extreme forms of expression actually are among conversations in social media, how they are received, and what they compare to, in terms of the nature and quality of other types of messages that find space online."
Contributing to the global debate present in many countries including Ethiopia regarding freedom of expression the researchers sought to analyze and compare online speech that is offensive or may incite violence with other forms of expression including "criticism of public figures, to support for a political party, to engagement across religious or ethnic divides." Researchers collected and examined over 13,000 statements that were posted online on the Facebook social media platform between February and June 2015 — during a timeframe coinciding with Ethiopia's parliamentary elections held in May 2015 — and gathering data three months prior to and one month following elections.
The research methodology included the collection of statements that either went against or were in support of an issue. Analysis of the data focused not on whether statements were made "agreeing or disagreeing, but about the tendency to take a viewpoint seriously and engage with it, or, on the contrary, to dismiss it and directly attack a person for his/her affiliation with a specific group."
While sampling online speech in a multi-lingual nation like Ethiopia was a challenge, the research team developed a comprehensive mapping strategy of Facebook-related discussions and interaction among Ethiopians online, both within the country and the Diaspora. The selection criteria used included having 100 or more followers on a Facebook profile or group page, having some of the content shared using an Ethiopian language, and posting issues and topics related to Ethiopia. Over 1000 Facebook sites addressing issues ranging from politics to religion, travel and sports were examined before making random selections for the general study sample. An estimated 2,000 posts and status updates generated per month were analyzed using the "going against vs going towards" methodology framework. The online statements were then analyzed using three layers of research questions as follows: 1) whether or not an individual or group was being targeted based on ethnicity, religion, gender or sexual affiliation; 2) whether the content of the statement was considered hate speech or dangerous speech; and 3) whether or not the online statements posted encouraged an audience to take action or do something against an individual or group based on their ethnic, religious or gender affiliations. An additional research question focused on the power imbalance between the individual posting the statement and their target.
Among the diaspora the top 10 countries with Ethiopian participants on social media analyzed for this project included the United States (49%), Norway (7.6%), United Kingdom (5.8%), Saudi Arabia (5.1%) UAE (2.7%), Canada (2.5%), Australia (2.4%), Germany (2.1%), South Africa (2.1%), and Kuwait (1.4%).
The initial results of the research findings were shared in meetings with members of Ethiopian government, leaders of opposition parties in the country, media organizations such as Addis Standard and The Reporter, as well as activist groups calling for freedom of expression including Zone 9 and PEN Ethiopia, academic professionals, and representatives of international non-governmental organizations including the African Union and UNESCO. "This process offered a unique opportunity to test the convening power of evidence…that allows academic insights on hotly debated topics," the researchers stated in the report. "Individuals sitting at opposite ends of the political spectrum found common ground and agreed on the ability of academically informed research to create a space for individuals and groups holding competing views to engage with one another using evidence as their starting point, rather than personal grievances."
The report had several major findings including the marginal use of statements categorized as dangerous or hate speech. "Only 0.4% of statements in our sample have been classified as hate speech and 0.3% as dangerous speech" the researchers noted. Hate speech was defined in the research as "speech that incites others to discriminate or act against individuals or groups based on their ethnicity, religion or gender" while dangerous speech was defined as "speech that builds the bases for or directly calls for widespread violence against a particular group."
Additional results reported included the finding that "almost all dangerous statements [were] uttered by individuals seeking to hide their identity (92%)" as well as the widespread disillusionment with Ethiopian parliamentary elections with "the perception that the outcome of the elections was already predetermined." While the findings also showed that "the political, social and cultural views reflected in social media in Ethiopia are less polarized than might be expected" the few extreme statements made had "the power to shape debates" with statements classified as 'going against' receiving the largest amount of comments and shares. The report also noted that "unequal power relationships increase antagonism between speakers and followers." The least antagonistic discussions among Ethiopians on online platforms were regarding religion.
The researchers emphasized that while Ethiopia's media environment has been perceived as being highly polarized in the past two decades, "the greatest opportunities for engagement seem to lie in politics that appeal to universalistic values." Citing the campaign to release Zone 9 bloggers and their quest for greater freedom of expression, which attracted support both nationally and internationally, the researchers found that most of the statements made regarding the Zone 9 bloggers were 'going towards' or in support of the issue (96%).
"It seems that a new generation of Ethiopians may be more inclined to adopt less contentious tones and embrace more universalistic forms of politics; while older figures and grievances tend to trigger more polarized debates" the report stated, while noting that the distinction is not entirely clear-cut "between old and new media."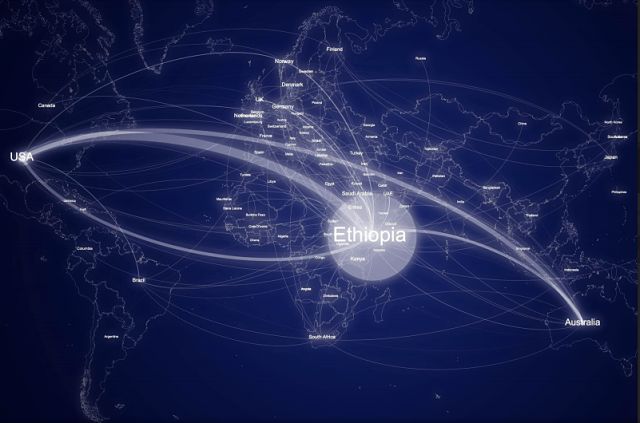 The research analyzed the tone, behavior and quality of online debate among Ethiopians both in Ethiopia and the Diaspora. (Courtesy Image)
"Our findings suggest..that spaces inciting hatred and violence in Ethiopia remain marginal, and social media as a whole are more likely to be embraced as spaces to experiment with new forms of communication and engagement rather than as spaces for promoting extremist views," the researchers added. "To our knowledge this is the first time research focusing on an entire country, and its diasporic community, has been able to quantify the proportion of hate and dangerous speech among the total conversations occurring on a social networking platform."
The Oxford and Addis Ababa University collaborative research and subsequent findings of the nature of online debate among Ethiopians comes in the heels of yet another arrest of a former opposition party spokesperson over comments allegedly made on Facebook. In 2016 the non-profit organization Freedom House also lowered the ranking for Ethiopia from 6 to 7 with regards to freedom of expression citing "new, sophisticated methods of censorship, information control, and propaganda messaging" as well as "increased use of draconian laws to suppress dissent" in the country.
The final report of the Mechachal study to be released soon offers empirical insights on online speech and debate in Ethiopia and the Diaspora, calling for more informed policy-making with regards to regulating freedom of expression and online discussion on social media platforms.
Below are two prior preliminary assessments released from the Mechachal study:
Mechachal – Online Debates and Elections in Ethiopia. Report One: A preliminary assessment of online debates in Ethiopia
Mechachal – Online Debates and Elections in Ethiopia. Report Two: Discussing politics and history in social media
—
Join the conversation on Twitter and Facebook.