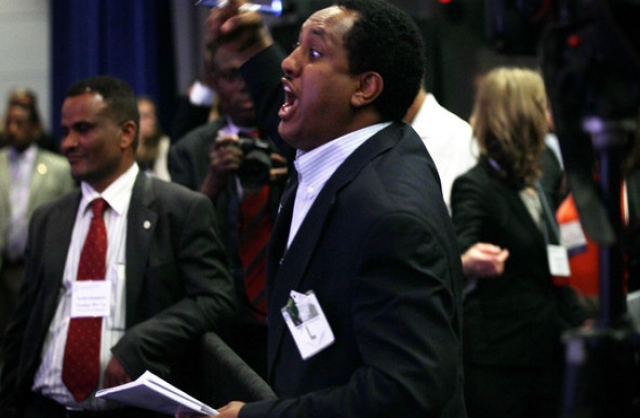 Ethiopian Activists Protest G8 Summit (VOA News)
Nico Colombant
May 19, 2012
THURMONT, Maryland – As U.S. President Barack Obama finished meetings with leaders from the Group of Eight leading industrialized nations and African heads of state at the Camp David retreat in Maryland, demonstrations erupted in nearby towns. The protesters involved regulars of the Occupy movement as well as anti-government Ethiopian activists.
​Several hundred Ethiopian activists came from across the United States to protest meetings involving Ethiopian Prime Minister Meles Zenawi, who has been in power since 1991. The United States is a major aid contributor to Ethiopia, whose leader has been accused of restricting freedoms, including those of the media.
Read more and watch video at VOA News.
—
Activists Urge Obama to Reassess Ethiopia Partnership Over Rights Record (AP)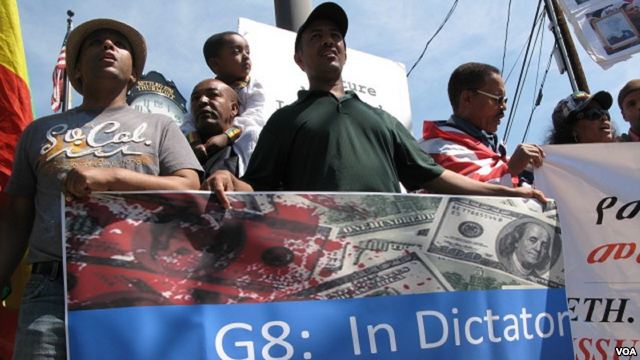 Photo: Nico Colombant/VOA
By KIRUBEL TADESSE
ADDIS ABABA, Ethiopia — Rights groups are asking President Barack Obama to re-evaluate the U.S.-Ethiopia relationship over allegations the leader of the East African nation is becoming increasingly repressive.
The requests came just before Obama on Friday announced $3 billion in private-sector pledges to help feed Africa's poor. The U.S. is a major contributor of aid to Ethiopia.
The Solidarity Movement for a New Ethiopia and the Oakland Institute asked Obama in a Thursday letter to "reassess the terms" of U.S. aid to Ethiopia during weekend talks with Prime Minister Meles Zenawi.
Meles is one of four African leaders invited to discuss food security at Camp David. The longtime leader has been accused of restricting freedoms and the media. Some in Ethiopia see him as a dictator.
The Committee to Protect Journalists said in a Wednesday letter to the White House it was concerned that Ethiopia had charged 11 independent journalists under sweeping anti-terror laws.
"Since 2011, under the guise of a counterterrorism sweep, the government of Ethiopia has brought terrorism and anti-state charges against 11 independent journalists, including blogger Eskinder Nega, who may face life in prison for his writing about the struggle for democracy," CPJ Executive Director Joel Simon said in the letter. "Such policies deter reporting on all sensitive topics, including food security."
CPJ called on Obama to "encourage Prime Minister Meles to end his repressive practices."
—
Press Advocates: Obama Should Talk Freedom at G8 (VOA News)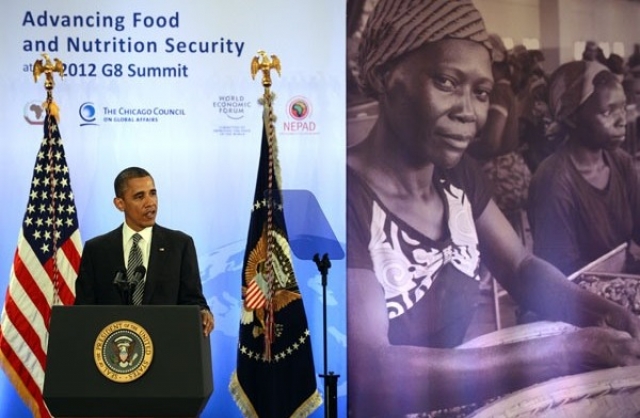 Photo: Getty Images
By Ricci Shryock
May 17, 2012
Press freedom advocates are calling for President Barack Obama to address limitations on journalists who report on food insecurity when he meets with four African leaders at the G8 Summit on Saturday.
The group is set to discuss solutions to food crises on the continent. But Mohamed Keita, the Africa Advocacy Coordinator for the Committee to Protect Journalists, said government censorship is part of the problem.
"We believe that such practices harm the domestic and international response to such crises and ultimately undermine the ability of everyone to assist millions starving," Keita said.
Mr. Obama will hold a working lunch with the presidents of Ghana, Tanzania, and Benin, as well as the prime minister of Ethiopia, during the summit at the Camp David presidential retreat in the U.S.
Keita said Tanzania, Ghana and Benin "are countries where the press is relatively free to operate. They are not working under intense censorship. They are not denied access to sensitive areas."
But he said the situation in Ethiopia is different. He said the government there has been guilty of hindering reporting on past and present food crises.
"Ethiopia is continually affected by drought and food crises and unfortunately the government prevents journalists access to sensitive areas," Keita said. "They are prevented from using the word famine when they report about these crises. They are ​​
Okule Buli helps her five-year old daughter Jamila sit up in her bed in the Intensive Care Unit of a medical center run by Medecins Sans Frontiers in Kuyera, Ethiopia, 02 Sep 2008 (File photo AFP)
​​prevented from taking photographs of obviously malnourished children."
​​"This has an impact on the ability of aid groups to scramble to raise funds to assist" in a timely manner, he added.
Keita acknowledged Ethiopia has made economic strides in reducing poverty and improving infrastructure, but he said hunger remains a chronic problem. And he said government statistics about food insecurity and hunger cannot be relied upon.
Since 2011, the Ethiopian government has used its sweeping anti-terrorism laws to bring charges against 11 journalists.
LISTEN: Committee to Protect Journalists' Mohamed Keita talks to Ricci Shryock about Press Freedom.
—-
Obama Announces $3 Billion in Private Sector Pledges to Help Feed Africa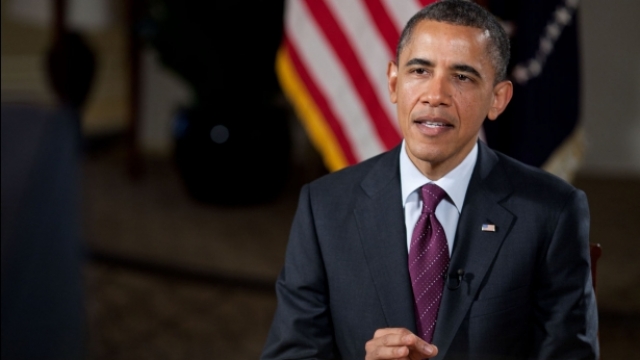 President Barack Obama is preparing to host four African leaders, including Prime Minister Meles Zenawi of Ethiopia, for G8 session on food security at Camp David this weekend. (Photo by Pete Souza, White House Photo, 5/4/12)
May 18, 2012
U.S. President Barack Obama has announced a new global partnership to involve the private sector in improving food security in Africa, as wealthy nations struggle with shrinking budgets.
President Obama announced the effort in Washington Friday, as leaders of the Group of Eight leading industrialized nations (the United States, Britain, Germany, France, Italy, Japan, Canada and Russia) prepared to hold their annual economic summit at the Camp David presidential retreat outside the U.S. capital.
Mr. Obama said that 45 companies, from major international corporations to African companies and cooperatives, have pledged more than $3 billion toward the new effort to help boost agriculture. But Mr. Obama insisted that the private sector commitments are not intended to replace aid, saying the United States will continue to make "historic investments" in development. He said the U.S. has a "moral obligation" to lead the fight against hunger and malnutrition.
"Some have asked in a time of austerity whether this alliance is just a way for government to shift the burden onto somebody else. I want to be clear. The answer is no," said President Obama.
Mr. Obama said the pledges from the private companies, along with contributions from donor countries, are aimed at boosting farmers' incomes and helping 50 million people lift themselves out of poverty over the next 10 years.
The U.S. president addressed African leaders from Ethiopia, Ghana and Tanzania during the speech in Washington, which he said will be the first three countries to undertake the effort. African Union chair and president of Benin, Thomas Boni Yayi, was also present for the speech and will take part along with his fellow African leaders in what Mr. Obama described as a "special" G-8 session Saturday devoted to the food security challenge.
Weekend of High-Level Diplomacy
Following the speech, President Obama welcomed new French President Francois Hollande to the White House for their first one-on-one meeting. Mr. Hollande, who was sworn in this week, has called for a change in Europe's current focus on austerity to address the eurozone sovereign debt crisis.
Speaking to reporters following the meeting, President Obama said much of his discussion with President Hollande centered on the situation in the eurozone. Mr. Obama said they both agreed that it is an issue of "extraordinary importance" not only to the people of Europe but also to the world economy.
The austerity pact has led to a political standoff in cash-strapped Greece, where voters rejected political parties that agreed to harsh budget cuts in exchange for financial assistance.
Mr. Obama and Mr. Hollande will be joined at Camp David by German Chancellor Angela Merkel, the prime mover behind the Eurozone austerity treaty, plus the leaders of Canada, Britain, Italy, Japan and Russia. Russian Prime Minister Dmitri Medvedev is attending in place of President Vladimir Putin.
U.S. National Security Advisor Tom Donilon told reporters Thursday the leaders of the Group of Eight nations are expected to discuss global oil markets, energy and climate, the transition in the Middle East and North Africa and the eurozone debt crisis during the two-day summit.
Mr. Hollande will also play a central role in the two-day NATO summit that will begin Sunday in Mr. Obama's hometown of Chicago. The new French president has pledged to remove all his country's troops from Afghanistan by the end of this year — two years before all NATO troops are scheduled to leave.
Donilon says the meeting of the alliance is an opportunity to discuss the transition of Afghan forces taking the security lead from international forces. He notes the talks will build on progress made and plans the president talked about in a recent visit to Afghanistan.
"Chicago is a critical milestone in the next step towards a responsible ending of this war, towards our achieving, very importantly, our goals in this effort in Afghanistan and really kind of the execution of the strategy that the president laid out in his speech at Bagram," said Donilon.
He says President Obama will meet with Afghan President Hamid Karzai on the sidelines of the talks Sunday. He says there are no plans at the moment to hold a private meeting with Pakistani President Asif Ali Zardari.
Islamabad closed supply routes to NATO nearly six months ago to protest U.S. airstrikes that mistakenly killed 24 Pakistani troops near the Afghan border.
Pakistani officials demanded an unconditional apology for the deadly NATO air strikes. But Washington only offered condolences and Islamabad retaliated by cutting off NATO ground supply routes. The U.S. withdrew as much as $3 billion of promised military aid, as relations with Pakistan deteriorated.
—-
Related:
FBI Investigating Alleged Murder Plot Against Abebe Gellaw (ESAT)
At Camp David, President Obama is Urged to Raise Press Freedom in Africa (Huffington Post)
Obama should raise press freedom in Africa food talks (CPJ)