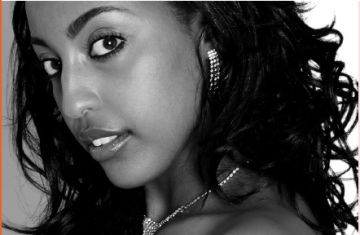 Above: She's got brains, beauty and a serious sweet tooth.
Meet Jiitu Abraham. Recently, we had a chance to sit
down and chat with the Ethiopian beauty queen.
Tadias: How does it feel to be crowned "Miss Ethiopia World"?
Jiitu Abraham: I feel blessed and honored. I fasted for two months prior to the competition. I asked GOD to make it clear to me if I should go, or if it was just going to be a waste of my time. I didn't actually buy my ticket until 3 days before the competition. I am honored because I am the first American-born Ethiopian to win this title.
I was happy to see that organizers such as Andy Abulime, and the competition's judges, were progressive enough in their thinking to understand that you don't have to be born in Ethiopia to be an Ethiopian. The country of your birth doesn't prevent you from taking pride or interest in the country that raised the parent(s) who raised you.
While I have received a lot of negative feedback from many, I stand my ground in believing that to be Ethiopian is something that you are born being regardless of your birth country, not something that can be given or taken away from you. With all the children being born to Ethiopian parents in the US and other countries outside of Ethiopia, there is no way that I can or will allow someone to tell me that we are not real Ethiopians, or not Ethiopian enough. We might have had different experiences growing up but that is what is going to make us a more eclectic and successful community. If encouraged and supported properly, Ethiopians, from all backgrounds, can come together and fuse their different life experiences and knowledge to better the social, economic, and political situation in Ethiopia. Being born outside of Ethiopia was not our choice, neither is being Ethiopian. It just simply IS our reality.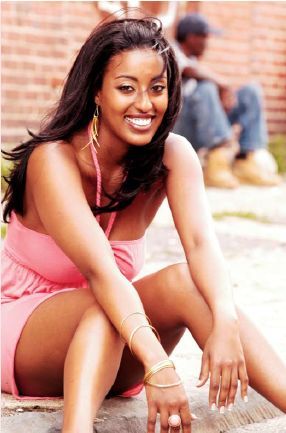 Tadias: Who is your role model and why?
JA: I have different role models for different aspects of my life. As far as life goes, I don't have to look far for a role model, because my parents, Abebe Abraham and Azenegash Hailu Abraham, are my role models. They have showed me through their actions that the only way to achieve your goals is through hard work and determination. They taught me that there is no speed-pass to success. True success can only be earned through hard work. They also made sure to instill in me the importance of trying to live your life for God, because without him nothing is possible.
When it comes to pursuing a career in entertainment, I would say my role model has been Will Smith. I specifically remember one interview he did for MTV, in which the reporter commented on his acting and rapping talents. Will replied, "I might not be the best actor or the best rapper, but one thing I can say for sure is that I am the most determined." That day I made this statement my motto. I repeated this statement to myself over and over again while competing in Ethiopia. I was so nervous. I was full of self-doubt.
The girls were so beautiful and all I can remember thinking was "You are out of your league." But I had to keep saying to myself, "You might not be the tallest, the skinniest or the prettiest, but you CAN be the most determined." Repeating this statement to myself over and over and over again, coupled with the constant verbal affirmation of my parents is what allowed me to give 110% to pursuing a life-long dream.
Tadias: Where do you see yourself five years from now?
JA: In five years, I would like to see myself as the President/CEO of my own entertainment company. The company would be focused on International Americans. I would like to help shape the media's image of first-generation immigrants, like myself. Our experiences growing up are unique and have yet to be focused on by mainstream media.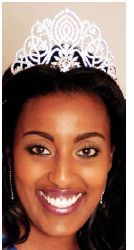 Tadias: Name three things you can't live without… Okay, make it five.
JA: I am glad that you moved it up to five. I couldn't narrow it down to three. First and foremost, I couldn't live without my relationship with God. It is hard being young in the world today. There is so much more of a pull from the secular world than the religious one. It is easy for someone to get lost. I try to keep His word with me at all times, so hopefully when I am put in a tough position I can make a smart decision.
Secondly I would choose my family, my mom, Azenegash Hailu Abraham, my dad, Abebe Abraham, and my brother, Yohannes Abraham, a very handsome, Yale University student. They are my rock and my strength. I couldn't go through all the ups and downs of life and pursue a career in the oftentimes fickle entertainment business, if I didn't know that I will always have them there at the end.
Thirdly I would choose my friends, Dana, Betty, Tessi, Jen, Michelle, and Abbey, who are my extended family. They support me at my shows, encourage me to pursue my dreams, and most importantly, they are always there when I need to take my mind off a hard day's work, and just have fun!
My fourth choice would be sweets! Some people have a sweet tooth, I, on the other hand, have sweet teeth (plural). If it were up to me I would eat sweets for every meal. I know my health-nut mom is cringing at this statement, but it is true. While I do my best to heed the health advice of my mother, I have yet to allow a single day of my adult life to pass without sneaking in at least one piece of cake or chocolate.
Lastly I would chose playing. While I love to get dressed up for a night on the town, I enjoy playing more. I love nothing more than spending a whole Saturday or Sunday swimming in a local lake, hiking in West Virginia, or biking. Actually, I just got back from a 3-day, 184-mile bike ride from Cumberland, MD to Georgetown, DC. It was wearisome but I enjoyed the serenity of being outside, in nature, without the hustle and bustle of everyday life.
Tadias: Is there anything else you would like our readers to know?
JA: I was named "Honorary Ambassador of Goodwill to Israel." While my father and I were in Israel, on a religious pilgrimage, the Minister of Tourism, Mr. Avraham Hirchson, presented me with the title "Honorary Ambassador of Goodwill to Israel." I also got a chance to meet with Senator Barack Obama, United States Senator for Illinois, and discussed my mission as Miss Ethiopia World. We also discussed ways in which to seek and gather public support and recognition for the foundation supported by the Miss Ethiopia World title, the Ethiopian Life Foundation, and its causes.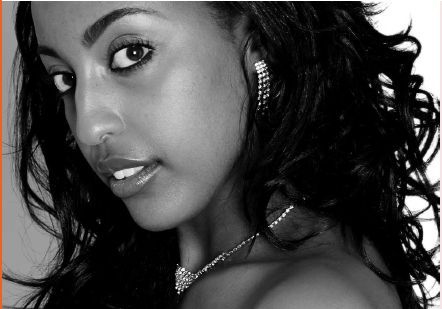 Also, I am a senior anchor for ENBS (Ethiopian National Broadcasting Services). ENBS is currently the only Amharic and English language program focused on informing and educating the Ethiopian Community and interested public residing in the Washington, DC area. ENBS presents issues pertaining to Ethiopians, Ethiopia, and its surrounding African countries. The show airs every Saturday between 4-5pm on MHz Networks.