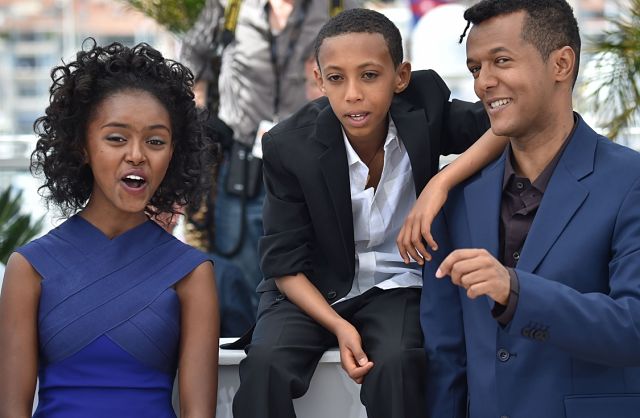 By Jordan Hoffman
The first image in Lamb is a closeup of a small boy's hand laying gently on the thick, auburn wool of of a sheep. It may be a one-sided relationship – it's hard to get inside the head of livestock – but Ephraim (Rediat Amare) clearly loves this animal. He lives in a small village in Ethiopia with his father, an area troubled by drought. His mother has recently passed away and his father has decided that he will take the boy to live with cousins in a farmland area with rolling green hills while he goes to Addis Ababa looking for work.
The new family consists of a loving but all-business great aunt who keeps a whip by her side for occasional discipline, a stern uncle, an aunt concerned with her sick daughter, and another daughter who is past marrying age but seems more interested in reading newspapers than getting hitched and having children.
What's most exciting about Lamb, the first Ethiopian film to play at Cannes (it appears in the Un Certain Regard section), is that it is an ethnographic film made entirely from the inside out. First-time feature director Yared Zeleke attended New York University's film school, but grew up in Ethiopia's urban slums during some of its most troubled years. While we're following Ephraim into a new environment, there's little explaining done for our benefit. We're dropped in and left to figure it out for ourselves.
The family are subsistence farmers, and just barely getting by. They have no electricity or gadgets or western clothing. What they have instead are plenty of customs, like putting on an exaggerated show of mourning when Ephraim first arrives, and preparing for a forthcoming Christian feast. It is decided that Ephraim's sheep will be slaughtered for this holiday, setting up something of a ticking clock. Heading down to the small marketplace, where car radios blaze with music familiar to fans of the Éthiopiques compilation , Ephraim scopes out a bus ticket. He isn't sure if he wants to go to the city to find his father or to return to his old village. He knows he can't stay here, though, with the local bully kids, an unsympathetic uncle and a sword looming over his beloved pet's head.

—
Related:
Watch: Ethiopia's First-Ever Cannes "Official Selection" Drama 'Lamb' (Indiewire)
Lamb: Yared Zeleke's Film at Cannes 2015 (TADIAS)
Cannes 2015: the complete festival line-up (The Telegraph)
Home work: Filmmaker Yared Zeleke's Origin Stories (Manhattan Digest)
Join the conversation on Twitter and Facebook.