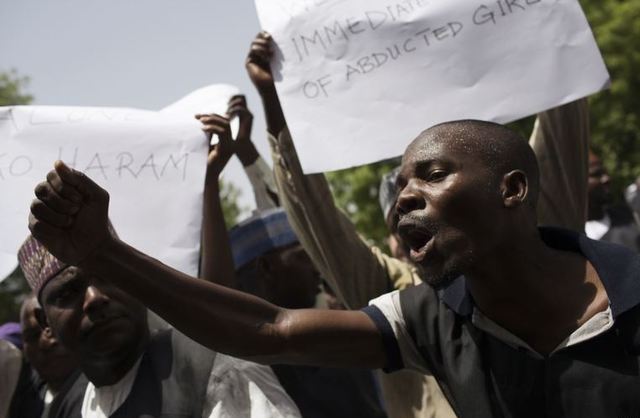 VOA News
May 22, 2014 3:22 PM
The United Nations Security Council has imposed sanctions against Nigerian Islamist group Boko Haram, which has carried out a wave of deadly attacks and the recent abduction of nearly 300 schoolgirls in Nigeria.
Nigeria had asked the committee to add the militant group to the list of al-Qaida-linked entities that are subject to asset freezes, travel bans and an arms embargo.
U.S. Ambassador to the U.N. Samantha Power welcomed the council's action, calling it "an important step in support of the government of Nigeria's efforts to defeat Boko Haram and hold its murderous leadership accountable for atrocities."
In Nigeria, gunmen killed at least 29 people in an attack late Wednesday on a remote village in the northeast. It was the third major attack blamed on Boko Haram this week.
On Thursday, teachers across Nigeria took to the streets in a one-day strike to protest Boko Haram's kidnapping of the schoolgirls, who have been missing for more than a month.
Several countries have pledged to support Nigeria in its effort to find the girls. On Wednesday, U.S. President Barack Obama deployed 80 U.S. military personnel to Nigeria's neighbor Chad to help in the search.
The U.N. is also backing efforts to find the girls, including preparing a "support package" for the girls and their families.
Boko Haram has said it wants to establish a strict Islamist state in northern Nigeria.
In recent weeks, the group has stepped up the frequency and intensity of its attacks. Nigerian officials believe the militants are responsible for twin bombings in the central city of Jos on Tuesday that killed at least 118 people.
The militants are also blamed for attacks on three Borno state villages overnight Tuesday in which 48 people were killed.
Earlier this week, lawmakers extended a year-old state of emergency in the northeast, where Boko Haram has been most active.
Video: US steps up its role to find Nigerian girls (NBC News)

—
Related:
US Lawmakers Take Action to Curb Human Trafficking
US Using Chad as Base in Search for Nigerian Girls
Join the conversation on Twitter and Facebook.