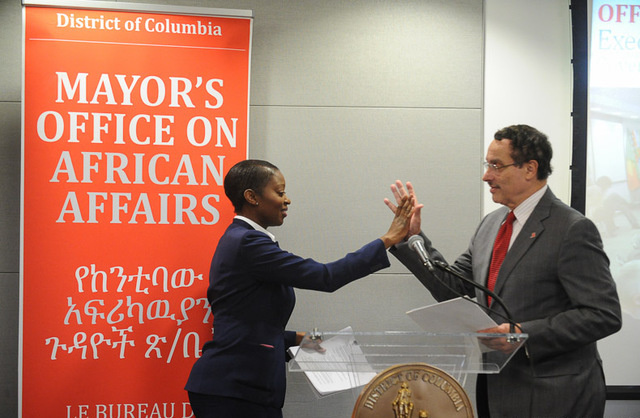 DC Office on African Affairs
Press release
In honor of Africa Day – the annual May 25th celebration of the formation of the Organization of African Unity (now African Union), Mayor Vincent C. Gray and the Office of African Affairs (OAA) are delighted to announce the first-ever African Community Grant Program and the awarding of $100,000 in funding to eight community-based organizations (CBOs) who provide critical services to the District's African community.
Grants supported by Fiscal Year 2014 funding have been given to CBOs who serve the city's most vulnerable community members and offer support and programs in the priority areas of jobs and economic development, linkages to health and human services, youth engagement and education, and the promotion of African arts, culture, and the humanities.
"It is timely and appropriate that we celebrate this year's Africa Day with a commitment to strengthening community-based organizations which are the frontline institutions that provide services to our African residents," said Mayor Gray. "Funding these organizations in turn, enable many more individuals to access resources, improve their quality of life, and ultimately contribute to the city they now call home."
This year's awardees are: African Women's Cancer Awareness Association ($10,000); Citiwide Computer Training Center ($20,000); Ethiopian Community Center ($15,000); Ethiopian Community Services and Development Council ($15,000); Kankouran African Dance Troupe ($12,000); Many Languages One Voice ($10,000); Oromo Community Organization ($10,000) and Peace Through Culture in partnership with African Diaspora for Change ($8,000).
"We are absolutely thrilled for the selected CBOs and this first time funding opportunity, said OAA Director, Ngozi Nmezi. " We remain encouraged that the funds will enhance the capacity of these culturally and linguistically competent CBOs – ensuring that they remain strong pillars of support and development for the District's African community."
Awardees will work towards raising awareness about breast cancer risks among African women, provide general healthcare training and assessments, offer job and workforce development training, conduct positive youth development and leadership programming, and create platforms to showcase diverse African culture and arts. All award recipients were selected in a competitive process by an external review panel who evaluated each proposal based on quality of services and the reach of their proposed programs into the District's culturally and linguistically diverse African community.
Below is Mayor Gray's Africa Day Proclamation: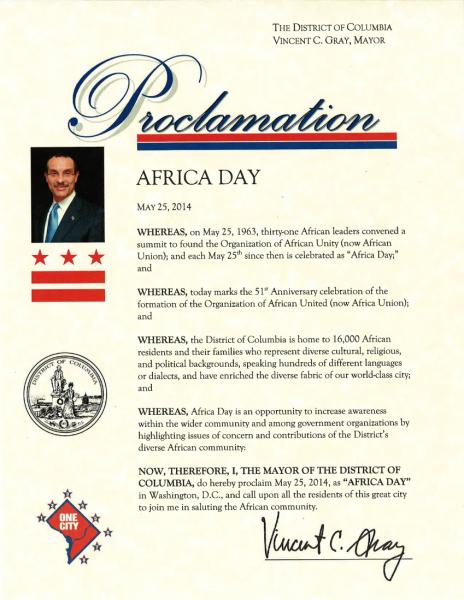 –
Related:
Photos: Mayor's 4th Annual DC African Heritage Celebration (Photographs by Matt Andrea)

Join the conversation on Twitter and Facebook.