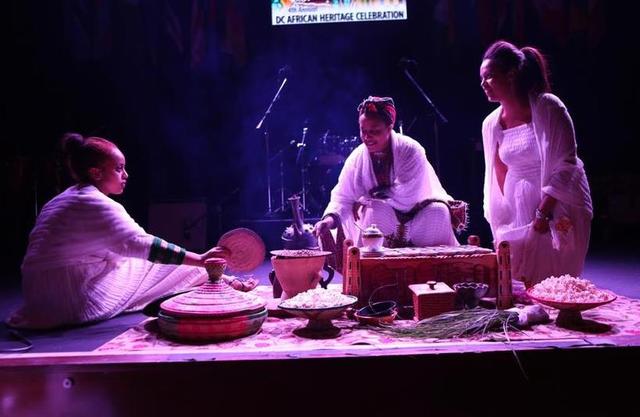 Tadias Magazine
Events News
Published: Saturday, October 5th, 2013
Washington, D.C. (TADIAS) – Over 700 people packed the historic Howard Theatre in Washington, D.C. last Monday (September 30th) to participate in the Mayor's 2013 Annual DC African Heritage Cerebration. The colorful stage event, hosted by the Office on African Affairs in partnership with the DC Commission on Arts & Humanities, included the worldwide observance of the 50th anniversary of the OAU as well as an awards ceremony highlighting the unique contributions of members of the vibrant African community to DC's economic and social life.
Among the individuals recognized by Mayor Vincent C. Gray included Angelle Kwemo in Public Service, Tereguebode Goungou in Community Organizing, Tamrat Medhin in Panafrican Bridge Building, Anthony Chuukwu in Institution Building, and Henok Tesfaye in Business.
"On the 50th anniversary of the Organization of African Unity we take this opportunity to recognize that the Washington Metro area is now home to over 150,000 African immigrants and over 10% are right here in the Nation's Capital," Mayor Gray said. "I know that our African community is extremely diverse, both linguistically and culturally, so it is wonderful to see all of them come together today to represent, share and showcase their cultures and contributions to the larger District community."
The entertainment segment of the event, which kicked off with an exhilarating performance by the West African Dance Ensemble Balafone, also included a surprise closing appearance by the Ethiopian rock group Jano Band before they headed back to Ethiopia.
In her remarks at the celebration Ngozi Nmezi, the Director of the Mayor's Office on African Affairs, described the celebration as "one of the District's most anticipated African cultural events drawing thousands of attendees and unifying diverse communities in DC through African art, culture, history, and music while showcasing the burgeoning contributions that Africans make to the vitality of the city."
Below are photos from the event courtesy Matt Andrea.

—
Related:
Photos: United Nations Marks OAU-AU 50th Anniversary (TADIAS)
Join the conversation on Twitter and Facebook.