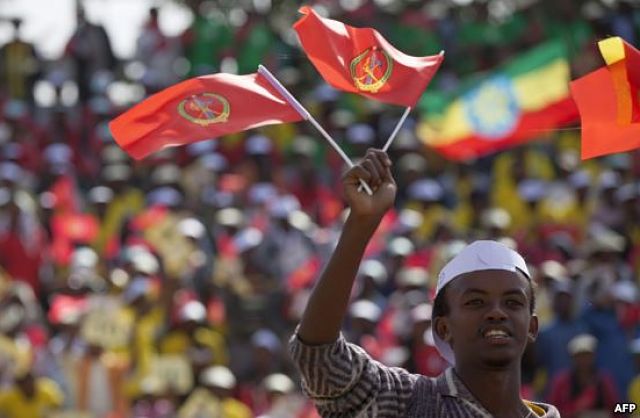 By Anita Powell
ADDIS ABABA, ETHIOPIA/JOHANNESBURG, SOUTH AFRICA — Ethiopia will hold a major election Sunday, but critics of the longtime ruling party say systematic repression has made this vote a nonevent. Outside of the country, Ethiopians who say they are political refugees have even harsher words for the government.
On the streets of Ethiopia's capital, it's hard to ignore that an election is coming. But banners and blaring songs aside, this is an oddly quiet election in a nation of some 90 million people.
The ruling Ethiopian People's Revolutionary Democratic Front is virtually guaranteed victory. In the last election in 2010, opposition parties won only a single seat in parliament.
Inside Ethiopia, very few ordinary voters are willing to speak about politics, which seems to support rights groups' claims that Ethiopia, in the words of Human Rights Watch, "has created a bleak landscape for free expression."
A spokesman for the EPRDF denies this.
"Most of the time, oppositions raised claims, complaints, and then after we established the complaint committee when it come to the result most of them will be false allegations. But some, very few, may be happened in reality," said Desta Tesfaw, head of public and foreign relations for EPRDF.
However, the Blue Party, Ethiopia's newest opposition party, said it has faced harassment, arrests and an unfair playing field.
"Oppositions are not getting a fair proportion of time and location, financing, things like that. Not only that, there are tremendous repression, we have about 50 people arrested only in Addis, about 50," said Yonatan Tesfaye, Blue Party spokesman.
In South Africa, Ethiopian immigrants said they are able to voice the thoughts they could not share at home. Many said they fled persecution from the ruling EPRDF.
"If you don't follow them and if you don't join them and if you don't do what they need, you can't do what you need. And you need to follow them, each and every thing they are telling you, because there is no democra(cy) at all in our country," Ethiopian immigrant Abdurahim Jemal Araya said.
In Addis Ababa, VOA News repeatedly asked gathered crowds if anyone would share their thoughts on the election, either in English or in Amharic. No one volunteered.
—
Related:
Ethiopia's Election: 'Africa's Largest Exercise of Political Theatre' (The Guardian)
With Limited Independent Press, Ethiopians Left Voting in the Dark (CPJ)
Opponents Question Ethiopia's Democracy (VOA)
Imperiling the Right to Vote in Ethiopia (Robert F. Kennedy Human Rights)
Is Ethiopia About to Get More Than One Opposition MP? (BBC)
No Western Observers for Ethiopian Elections (VOA)
As Ethiopia Votes, What's 'Free and Fair' Got to Do With It? — The Washington Post
Washington Enables Authoritarianism in Ethiopia (Aljazeera America)
Ethiopian PM Faces His First Election Ever (VOA News)
Wendy Sherman Says Editorial on US-Ethiopia 'Mischaracterized My Remarks' (The Washington Post)
The United States' Irresponsible Praise of Ethiopia's Regime — The Washington Post
U.S. Wrong to Endorse Ethiopia's Elections (Freedom House)
Join the conversation on Twitter and Facebook.