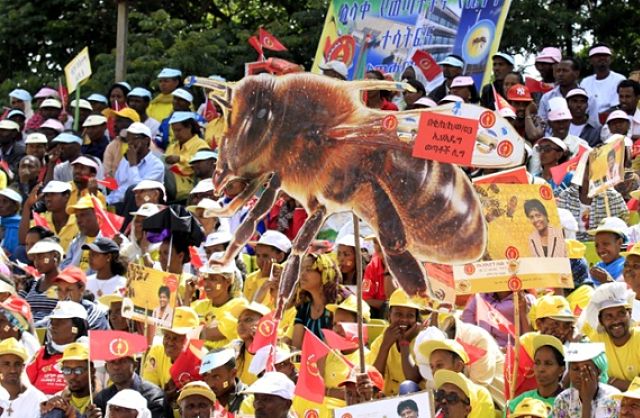 By Daniel Calingaert and Kellen McClure
Ethiopia's election is a wake-up call on human rights and sound governance
On Sunday, millions of Ethiopians will line up at polling stations to participate in Africa's largest exercise of political theatre. A decade-long campaign by Ethiopia's government to silence dissent forcibly has left the country without a viable political opposition, without independent media, and without public challenges to the ruling party's ideology.
For most Ethiopians, these elections are a non-event.
Ethiopia's elections are just an exercise in controlled political participation
The one potential dividend of these sham polls, however, is the international attention they will garner for the government's growing political repression. The blatant disregard for internationally recognised standards for free and fair elections just might convince Ethiopia's largest donors that it is time to rethink their relationship with an increasingly authoritarian government.
As long as democratic governance and respect for human rights are pushed aside by donors in favour of economic development and security cooperation, Ethiopia's long-term stability is at serious risk.
—
Related:
With Limited Independent Press, Ethiopians Left Voting in the Dark (CPJ)
Opponents Question Ethiopia's Democracy (VOA)
Imperiling the Right to Vote in Ethiopia (Robert F. Kennedy Human Rights)
Is Ethiopia About to Get More Than One Opposition MP? (BBC)
No Western Observers for Ethiopian Elections (VOA)
As Ethiopia Votes, What's 'Free and Fair' Got to Do With It? — The Washington Post
Washington Enables Authoritarianism in Ethiopia (Aljazeera America)
Ethiopian PM Faces His First Election Ever (VOA News)
Wendy Sherman Says Editorial on US-Ethiopia 'Mischaracterized My Remarks' (The Washington Post)
The United States' Irresponsible Praise of Ethiopia's Regime — The Washington Post
U.S. Wrong to Endorse Ethiopia's Elections (Freedom House)
Join the conversation on Twitter and Facebook.