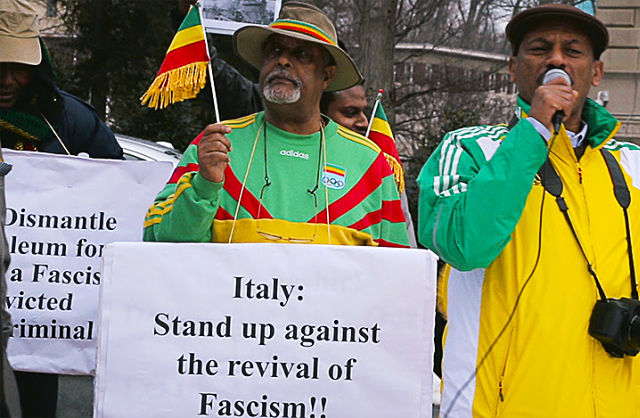 Tadias Magazine
By Tadias Staff
Updated: Wednesday, May 25th, 2016
New York (TADIAS) — Initially released last November the documentary If Only I Were That Warrior was shown in January 2016 as part of the "Best of African Diaspora International Film Festival" attracting much attention and dialogue among various communities including the Ethiopian and Italian Diaspora. This week, the documentary was also screened as part of the annual Sheba Film Festival in Harlem.
Following the dedication of a memorial to the Fascist General Rodolfo Graziani in the Italian town of Affile in 2012, and the subsequent outrage expressed by Ethiopians during a roundtable entitled "Honoring War Criminals: The Monument to Rodolfo Graziani" held at the Centro Primo Levi in New York, filmmaker and director Valerio Ciriaci decided to challenge the narrative of how Italians — specifically those supporting the right-wing establishment — continue to downplay the brutality of Italy's colonial history. Filming interactions with residents and leaders of Affile, and including testimonies from Ethiopian elders who witnessed Graziani's horrific war crimes, as well as the Ethiopian Diaspora's mobilization against the memorial, Ciriaci weaves together various conversations in an attempt to reconcile viewpoints and memories without compromising the reality of life under Graziani during the occupation. While public funding for Graziani's memorial was suspended by a new administration in Affile in 2013 the monument still remains standing.
Tadias recently interviewed Director Valerio Ciriaci and Producer Isaak Liptzin regarding their journey in the making of If Only I Were That Warrior. The documentary originally included interviews of more than 20 individuals with over 100 hours of footage in Amharic, English and Italian. We asked both the director, Ciriaci, and producer Liptzin to tell us more about what motivated them to document the controversy surrounding the Graziani monument and the dialogues that ensued.
"The whole thing happened after the construction of this monument for Graziani," says Ciriaci. "We heard this news, but we were not surprised. Growing up in Italy we saw those kinds of displays and nostalgic manifestations all the time." This was not an isolated case. The project really took shape when Isaak and I attended a conference organized by the Primo Levi Center and the Calandra Italian American Institute here in New York City. It was a conference about the Graziani monument and more generally about the fascist war crimes in Ethiopia. And there we met with members of the Ethiopian community and their reaction really shook us. They were outraged and very upset about the construction of the monument. That's when the idea for making the film was sparked — to make a documentary about history, about memory, this fragmented memory because what we learned while making this film is that this memory is very fragmented — and it changes when you ask someone in Ethiopia or in Italy. We heard many different points of view and memories. We want to create an awareness about the Graziani monument and perhaps spark a dialogue that never took place. Especially in Italy those crimes have never been discussed, so there has been many years of amnesia. It's a paradox but the monument is actually giving us an opportunity to talk about what happened, and hopefully to reconcile the memory of our two peoples."
In his Director's Statement Ciriaci shares that as he continued his research for the film he kept asking himself: "How can Graziani, who is remembered as 'the Butcher of Ethiopia' be honored in Italy with a public monument? How was this monument approved in a country where Fascism is constitutionally banned? This film is my attempt to unravel these questions."
Producer Isaak Liptzin noted that the making of the film "was a mix of situations." After establishing contact with members of the Ethiopian community in New York, Washington D.C. and Dallas, they met Kidane Alemayehu who was leading the anti-monument protest through his organization called Global Alliance for Justice: The Ethiopian Cause. Kidane had also written a letter to Italy's Foreign Minister regarding the objection against the building of the Graziani memorial. Kidane Alemayehu's interviews and mobilization efforts were captured in the documentary.
"Thanks to Kidane we were able to make some connections in Ethiopia," adds Liptzin. "It was difficult to find eyewitnesses of the Graziani massacres because it took place so long ago. But we were fortunate to find a monk in Debre Libanos, and that was a very important interview because he is one of the few remaining witnesses to the Debre Libanos massacre." The monk's testimony is one of the few ever captured on film.
The goal of the documentary includes addressing "examples of revisionism like the monument itself" Liptzin says, "which is only possible because there is such great ignorance on the topic in Italy, abroad and to a certain extent even in Ethiopia. So the goal is really to bring this back into everybody's mind and into the public discourse, not in a militant way but in a way that explains how this amnesia came to be."
"80 years after the invasion of Ethiopia, the case of Affile challenges us to take a first step toward better understanding the past and sharing its burdens," says Ciriaci. "My hope is that If Only I Were That Warrior can spark a dialog about this common history — a dialogue we have avoiding for too long."
—-
Join the conversation on Twitter and Facebook.