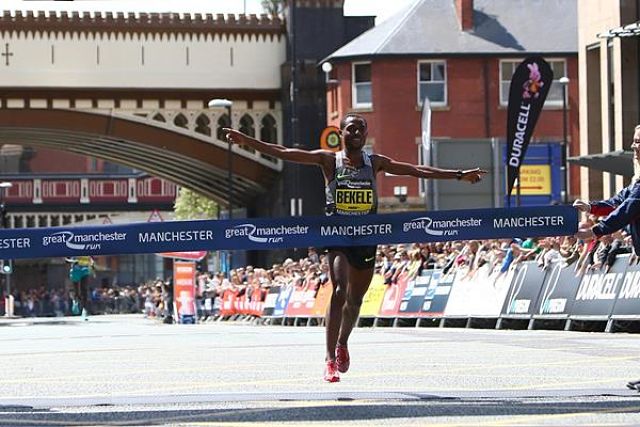 LONDON – Ehtiopia's Kenenisa Bekele won the 10km Great Manchester Run on Sunday before expressing his frustration at being overlooked by his country's selectors for the Olympic Games in Rio.
The three-times Olympic champion finished the Manchester race ahead of Kenya's Wilson Kipsang in 28 minutes and eight seconds.
Bekele, who returned from a long period out with injury to finish third in last month's London Marathon, is only a reserve for Ethiopia's marathon team for Brazil and has virtually ruled out trying to make the track team.
After Sunday's race, which he also won in 2014, he expressed his displeasure at being overlooked for the Olympics.
"I'm not happy about that…there is no-one better than me in the marathon in Ethiopia," he said.
DIBABA BEGINS COMEBACK WITH A THIRD VICTORY IN MANCHESTER 10K (IAAF)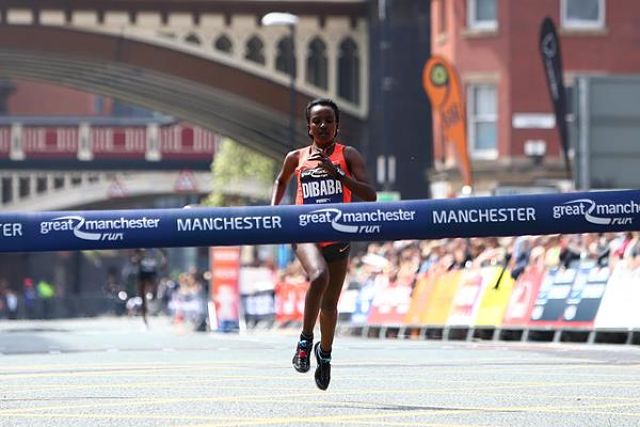 Tirunesh Dibaba wins the 2016 Great Manchester Run. (Photo: IAAF)
Tirunesh Dibaba made a winning return to competition after a two year hiatus and she also created a small piece of history by becoming the first woman to claim three victories in the Great Manchester Run, an IAAF Gold Label Road Race, on Sunday (22).
Keen to blow away the cobwebs in her first race back, Dibaba unusually took up the lead just before the two kilometre mark – a position which she barely yielded for the remainder of her comeback race.
Edna Kiplagat and early leader Diane Nukuri followed in Dibaba's slipstream through 5km in 15:45 but Nukuri – the multiple national record-holder for Burundi on the track and road – began to lose ground after Dibaba inserted a 3:04 split for the sixth kilometre.
The order remained the same through the eight kilometre mark in 25:03 and for a short while, an upset appeared to be on the cards. Kiplagat moved into the lead for the first time while Dibaba was looking laboured.
But Dibaba stayed in contact before striking the front with about 600 metres remaining. It might not have been a vintage showing but the world 5000m record-holder proved she is likely to be a force this summer on the basis of her victory this morning in 31:16 to move to third on the 2016 world lists.
"I felt a bit nervous [before the race] but I'm happy with my result," said Dibaba, who clocked 15:31 for the second half. "I did not expect this time; I just wanted to win. I didn't know what was going to happen and I had no clue about the time."
Dibaba will turn her focus back to the track with the foremost goal of sealing the qualifying time over 10,000m for the Olympic Games.
"I don't know exactly where or when I will be running but I expect to run it within a month," said Dibaba, who hasn't decided if she will run any shorter races to sharpen up.
While there was a considerable degree of uncertainty in regards to the selection criteria for the Ethiopian marathon team, Dibaba more or less knows what she has to do to gain a place on her fourth Olympic team this summer
—
Related:
All-time great Kenenisa Bekele snubbed from Ethiopian Olympic marathon team
Join the conversation on Twitter and Facebook.