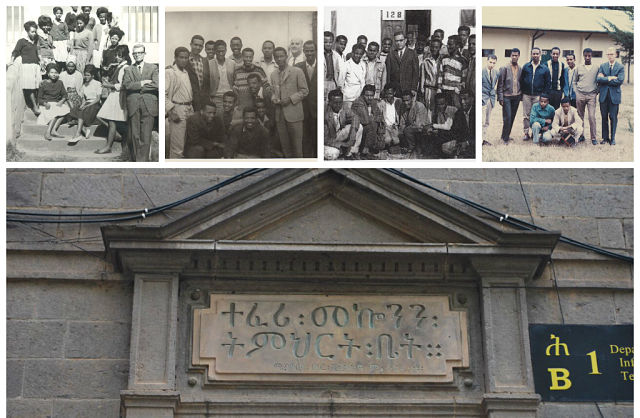 Tadias Magazine
By Tadias Staff
Updated: Monday, May 23rd, 2016
New York (TADIAS) — Established more than 90 years ago in Addis Ababa as one of Ethiopia's premier modern educational institutions Tafari Makonnen School (TMS) was one of the most prestigious public schools in Ethiopia, graduating students who became the country's first batch of diplomats, teachers, doctors, civil administrators, economists, senior military leaders, lawyers and professors. Now renamed Entoto Technical & Vocational Education Training College, those enrolled at TMS were recruited and trained from a pool of the nation's best and brightest students.
"We came from all over Ethiopia," recalls Dr. Bisrat Aklilu, President of the TMS Alumni Association in North America and retired United Nations official who graduated from the school in 1967. The alumni association is currently preparing to host its third general assembly on May 29th in Washington, .D.C. In a recent interview with Tadias Magazine Dr. Bisrat noted that the alumni association was established in 2011 by some of the school's former students who currently reside in the United States "as a networking platform and as a way to give back."
"After all most of us got where we are today because of the solid education that we received at TMS," Dr. Bisrat added. "So it's important that we pay back and also give the same opportunities to others who are there now. Obviously, the nature of the school has changed but that does not mean the importance of a world-class education has. In this country, as you know very well, schools basically flourish and survive on the basis of the contribution that they receive from their alumni. So we wanted to do the same for our school."
What had distinguished TMS during its heydey was not only its focus on high quality education and its diverse multicultural student population, but also that the education system "instilled a sense of duty and service to the community and country" Dr. Bisrat said. "It was not about thinking only of yourself. Those who could not afford it were given allowance and boarding, and most importantly, civic and moral integrity was emphasized as part of the curriculum."
"It was a very strict education and if you succeeded in finishing 12th grade then you were pretty much guaranteed acceptance to a college," Dr. Bisrat continued. "And certainly more than 99% if not 100% went on to pursue higher education. Incidentally, the same Canadian teachers, most of them Jesuits, that taught us were later on asked by the Emperor to establish the first University College of Addis Ababa, which is now Addis Ababa University."
At UN headquarters in New York where he worked for over 30 years Dr. Bisrat headed the Multi-Partner Trust Fund Office (MPTF), which he established in 2004 to "manage the resource of UN-wide bodies with an estimated six billion dollar operation," he told Tadias. Since his retirement from the UN in 2013 Dr. Bistart said he has found more time to dedicate himself to his role as President of TMSAANA. "One of our efforts is to restore back the school's name to Tafari Makonnen," he says. "It's important to keep the historical legacy of an institution like that."
TMS was initially inaugurated on April 27, 1925, by its founder Ras Tafari Makonnen Woldemikael who was a regent at the time and later coronated as Emperor. The school's first Superintendent was Ethiopia's first medical doctor, Hakim Workneh Eshete, who had previously served as Emperor Menelik's personal physician.
In addition, it was Dr. Workneh who was chosen to lead an official Ethiopian delegation to the United States in 1927 — just barely a decade before Italy's fascist invasion of Ethiopia turned everything upside down for his first group of students at Tafari Makonnen School and for Ethiopia as whole. According to historian Bahru Zewde, Hakim Workneh was sent to the U.S. "to negotiate with a New York company, J.G. White Engineering, to build a barrage on Lake Tana; Ras Tafari (later Emperor Haile Selassie) had selected this company in response to the Anglo-Italian agreement two years earlier, which had placed Lake Tana in the British sphere of influence," Wiki states. "This visit was significant not only for Workeneh's meeting with the company, and officials of the United States which included President Coolidge, but for arriving in Harlem, where he delivered Ras Tafari's greetings to the African-American community and Tafari's invitation to skilled African Americans to settle in Ethiopia."
TMS' Alumni Association of North America currently has approximately 280 members and seeks "to identify specific activities and projects to help the school in terms of quality of education and to assist current and future students," Dr. Bisrat said. "We also coordinate and engage with similar local organizations in Addis Ababa including our counterpart, the Tafari Makonnen School Alumni Charity Association (TMSCA)."
Dr. Bisrat shared with us the following quote from the inaugural speech given at the school by Regent Ras Tafari Makonnen on April 27, 1925:
This school is an instrument which will operate on our country's behalf through the knowledge which God gives to each of you according to your lot, once you have matured and have become vigorous in intelligence. So, I beg of you to help the school which nurtures you, give you the food of knowledge: to see that it does not shrink but expands, that it does not fall but grows in strength.
—
If You Go:
TMS Alumni Association in North America (TMSAANA)
3RD General Assembly — May, 29 2016
Washington, D.C.
For more info email: alumni@tmsaana.com
www.tmsaana.com
Join the conversation on Twitter and Facebook.