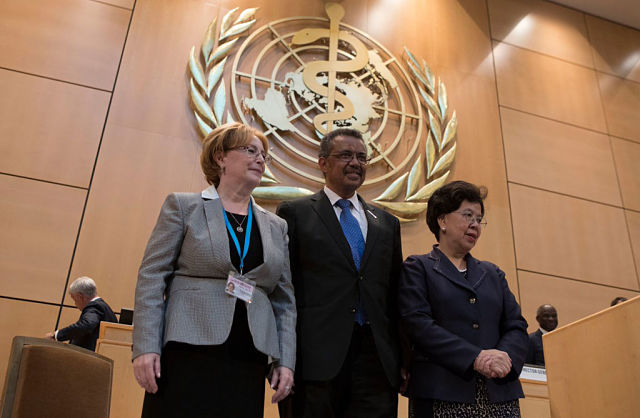 Published: May 23rd, 2017
GENEVA — Tedros Adhanom Ghebreyesus, a former Ethiopian minister of health, was elected as the next director-general of the World Health Organization on Tuesday, becoming the first non-medical doctor and the first African tapped to lead the U.N. health agency.
Delegates, health ministers and other high-level envoys chose Tedros over Britain's Dr. David Nabarro, a U.N. veteran, in the third and final round of voting. Tedros had 133 votes to Nabarro's 50, with two abstentions.
The third candidate, Pakistan's Dr. Sania Nishtar, was eliminated in the first round.
Ethiopian delegates could be seen hugging and high-fiving each other after their countryman made it to the second round. Tedro succeeds China's Dr. Margaret Chan, who is ending a 10-year tenure at the U.N. health agency on June 30.
The director-general of WHO wields considerable power in setting medical priorities that affect billions of people and declaring when crises like disease outbreaks evolve into global emergencies.
The agency has stumbled in recent years, most notably in its error-prone response to the 2014 Ebola outbreak in West Africa and all three candidates vowed to overhaul its organization to restore credibility.
Of the U.N. health agency's 194 member states, 185 were eligible to cast ballots; nine others either were in arrears on their dues or not represented at the gathering.
Jean-Marie Ehouzou, the African Union's top envoy in Geneva, expressed "happiness, happiness, happiness" at the result.
"It's not only a question of symbolism," he said, referring to Tedros' status as the first African to run WHO. "It shows when we are united, we can do everything."
—-
News Release
United Nations
Ethiopia's Tedros Adhanom elected to top UN health post
GENEVA – The World Health Assembly, the decision-making body of the United Nations health agency, today elected Tedros Adhanom Ghebreyesus as the new Director-General of the World Health Organization (WHO).
"Dr. Tedros Adhanom Ghebreyesus was nominated by the Government of Ethiopia, and will begin his five-year term on 1 July 2017," WHO said in a statement following the afternoon vote.
Among his previous positions, Dr. Tedros was Ethiopia's Minister of Foreign Affairs and, prior, Minister of Health.
He also served as Chair of the Global Fund and of the Roll Back Malaria (RBM) Partnership Board (RBM), where he secured "record funding" for the two organizations and created the Global Malaria Action Plan, which expanded RBM's reach beyond Africa to Asia and Latin America, according to the UN agency.
The incoming health chief was chosen from amongst three nominees presented to the World Health Assembly, along with David Nabarro from the UK, and Sania Nishtar from Pakistan, in a process that began before September 2016.
Dr. Tedros will succeed Margaret Chan, who yesterday addressed the World Health Assembly for the final time after serving two consecutive five-year terms.
—
Related:
Ethiopian wins race to be next leader of UN health agency (The Associated Press)
Join the conversation on Twitter and Facebook.