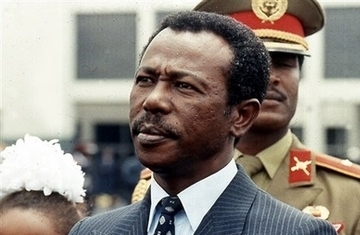 Above: Mengistu Haile Mariam has lived in exile for 17 years
Ethiopian court hands death sentence to Mengistu (Reuters)
By Tsegaye Tadesse
Mon May 26, 2008
ADDIS ABABA (Reuters) – Ethiopia's supreme court on Monday sentenced to death former Marxist ruler Mengistu Haile Mariam, granting a prosecution appeal that argued a life sentence he was given for genocide was unequal to his crimes.
But Mengistu, who has lived a life of comfortable exile in Zimbabwe since he was driven from power in 1991, is unlikely to face punishment unless Zimbabwe's President Robert Mugabe loses a run-off election next month and cedes power.
"Considering the prosecution's appeal that a life sentence was not commensurate to the crimes committed by the Mengistu regime, the court decided to sentence him to death," the court said in its ruling.
The prosecution in July appealed a life term handed to Mengistu in January 2007, after he was found guilty of genocide for thousands of killings during a 17-year rule that included famine, war and the "Red Terror" purges of suspected opponents. Read More.