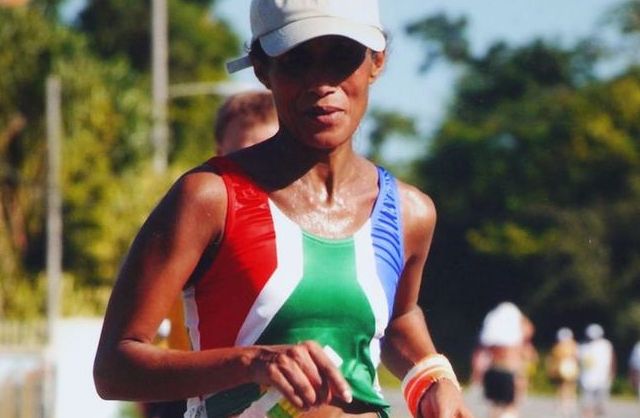 Tadias Magazine
By Jason Jett | Sports News

Published: Tuesday, May 29, 2012
New York (TADIAS) – The Comrades Marathon Association (CMA) has announced that America's first female runner is due to achieve her Green Number status at next Sunday's Comrades Marathon in South Africa. The annual event since 1921, billed as "the greatest ultra marathon in the world," covers approx 90 kilometres (56 miles) between the cities of Pietermaritzburg and Durban.
Born in Harar, Ethiopia, Admas Kifetew-Belilgne has spent much of her life in the US and is a member of West Side Runners NY and New York Broadway Ultra Society.
Admas says she used to daydream about running long distance, having been inspired by the great Ethiopian runner, Abebe Bikila. "Bikila was my hero," she enthuses, "and I wished to be a runner just like him."
A mother of three, ultra-running – a sporting event involving tracks longer than the traditional marathon length of 42 kilometres (26 miles) – has been her life-long passion. Admas has finished 12,100 miles and was placed First Female 5 times in the New York Pioneer 3-day 100 miler, with a course record of 15:47 in 2001, which still stands.
She has also competed heavily on the international ultra-running circuit over the past few years, having run races in Brazil, China, Ethiopia, France, Jamaica, Japan, Jordan, Switzerland & the United Kingdom.
Admas received six awards in the famous London to Brighton Ultra as well as being the winner of the 2000 NYRR Ultra-Runner of the Year Award and the 2005 Grand Prix winner of NY Broadway Ultra Society.
"I was interested in visiting SA for many years and when I ran the London to Brighton race in the UK & won the Ted Corbitt Cup for the first American in 2000; some of the runners mentioned Comrades Marathon at the prize-giving. Right there in the reception room, I decided to run Comrades."
"I immediately began planning my trip to Durban for the 2001 Comrades with a friend Edson Sanches, who will be running his 6th this year. What makes this mind boggling 'Ultimate Human Race' so special is that it is a race to remember."
Her message to South Africans: "Running is a reflection of how you feel inside and I encourage anyone to try running or doing whatever it is that they love."
—
Source: Media release by the Comrades Marathon Association (CMA), Sunday, May 27th, 2012.