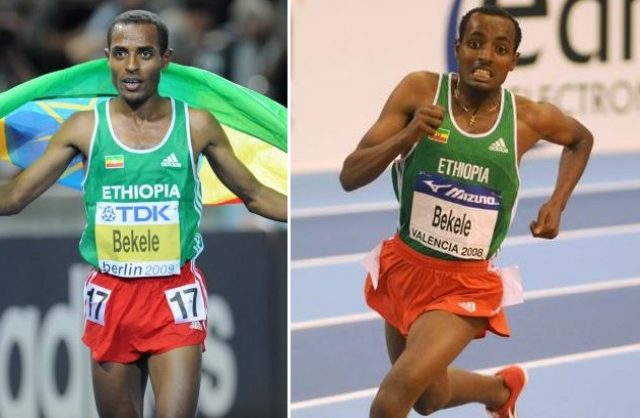 As Ethiopian star Kenenisa Bekele prepares to defend his Olympic 10,000 meters gold medal in London, his toughest competition could very well come from his younger brother, 25-year-old Tariku. On Sunday in Hengelo, the Netherlands, Tariku clocked 27:11:70, the fastest time in the world this year for the 25-lap race.
The Dutch competition doubled as Ethiopia's 10,000 meters qualification race for the London Games. Lelisa Desisa finished a close second, only 0.28 behind Tariku, to also book a ticket to London. Ethiopia's third Olympic 10,000meters berth was reserved for Kenenisa Bekele.
Kenenisa is regarded as one of the greatest distance runners of all time. He is the reigning Olympic champion and world record holder at both five thousand meters (12:37:35) and 10,000 meters (26:17:53). However, he has not been in top form the past two years because of leg injuries.
Another Ethiopian who has not been in top form in recent years is Haile Gebrselassie, a former world record holder and two-time Olympic champion at 10,000 meters who was hoping to qualify for his fifth Olympics.
But Father Time is one opponent the 39-year-old Ethiopian star has not been able to beat. Haile finished seventh in Hengelo, and afterwards hinted to reporters that he is moving closer to retirement from athletics. He made journalists laugh when he said at the post-race press conference: "Well, after this you will see me you know not with a track suit – with a suit!
Off the track, Haile has been wearing that business suit more often. He has become a successful businessman with several commercial ventures, including a resort hotel at Ethiopia's Lake Awassa.
—
Related:
Haile Gebrselassie Fails to Qualify for Olympics (AFP)
Mamitu Daska of Ethiopia sprints to early lead, easily wins third Bolder (Washington Post)