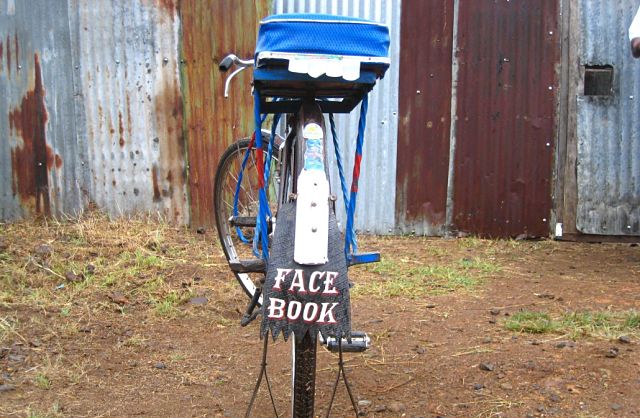 Tadias Magazine
By Tadias Staff
Updated: Friday, June 17th, 2016
New York (TADIAS) — This month, researchers at the University of Oxford and Addis Ababa University released their highly anticipated final report of the Mechachal study on online speech and debates in Ethiopia and the Diaspora. The study, which is the first of its kind to map the frequency of hate and dangerous speech in social media covering an entire country and its diaspora, combed through thousands of comments shared by Ethiopians on Facebook during a four month period last year just prior to and after the controversial 2015 national elections.
The researchers — comprising of an academic team that were either Ethiopian or had prior experience researching and working in Ethiopia — also looked at the nature, quality and behavior of online conversations among Ethiopians worldwide. Their findings call for more informed policy-making with regards to regulating freedom of expression and online discussion on social media platforms.
"These cases, and the findings emerging from the investigation of online debates on Ethiopia in general, suggest how important it is to distinguish between different actors and issues that are often bundled together in the broad label of 'opposition politics,'" says Iginio Gagliardone, one of the Mechachal study researchers and an Associate Research Fellow in New Media and Human Rights at the University of Oxford.
In an interview with Tadias Magazine researcher Matti Pohjonen noted that "the collaboration with Addis Ababa University had begun in 2012 when we joined forces to understand what impact Information and Communication Technologies (ICTs) were actually having in Eastern Africa, beyond the hype that had characterized the campaigns to reduce the digital divide and use ICTs for development." Pohjonen added: This effort also included other universities in the region, from Kenya to Uganda to Somalia. Mechachal emerged from the many conversations we had as part of that forum and we do hope that our efforts in Ethiopia could be scaled up in the region. We could learn a lot from comparatively analyzing online conversations in those countries."
Asked about the generational gap in tone, behavior and quality of online debate among Ethiopians both in Ethiopia and in the Diaspora, Gagliardone said "it is difficult to assess the accuracy of data on age provided on Facebook, and the fact that Ethiopia follows a calendar that is different from the one used by Facebook (based on the Gregorian calendar), further complicates things. However, if we use the age of individuals involved in specific events debated on Facebook as a proxy (assuming users tend to be more interested in commenting facts involving individuals of their own generation), some noticeable trends do emerge. Ethiopia's youth seems more inclined to adopt less contentious tones and embrace more universalistic forms of politics, while older figures and grievances tend to trigger more polarized debates."
Gagliardone added: "One example is the detention and trial of six members of the Zone 9 collective. Despite the case attracted criticism around the status of freedom of expression in Ethiopia, both at national and international level, almost none of the analyzed statements about the Zone 9 bloggers were antagonistic. Almost at the opposite extreme, in terms of the level of political antagonism that they triggered, were debates bringing back tensions between the current government and long-standing political opponents. Berhanu Nega's arrival in Eritrea in July 2015, for example, attracted much attention and encouraged a heated debate on Facebook. More than 40% of statements referring to the issue were categorized as going against. As an indication of how polarizing this issue was, and how it did not simply lead to focusing on a particular target, antagonistic statements were equally distributed between those attacking the government and those attacking Ginbot 7."
The report states that "In terms of where speakers were posting from, most of them were from Ethiopia (42%), but a significant proportion was from outside of the country (22%). These figures could be considered as both confirming and refuting the narrative about online debate on Ethiopia being driven by the Diaspora. On the one hand, twice as many people are posting from within Ethiopia, but the fact that 22% of individuals discussing issues related to Ethiopia are from the Diaspora is a significant number, especially when considered in a comparative perspective."
The research methodology included the collection of statements that either went against or were in support of an issue. Analysis of the data focused not on whether statements were made "agreeing or disagreeing, but about the tendency to take a viewpoint seriously and engage with it, or, on the contrary, to dismiss it and directly attack a person for his/her affiliation with a specific group…Speakers uttering statements that go against generally use non-insulting language, and they do not suggest, imply or call the audience to physical or nonphysical violence. Nonetheless, there are instances in which speakers use insulting/derogatory terms or metaphors."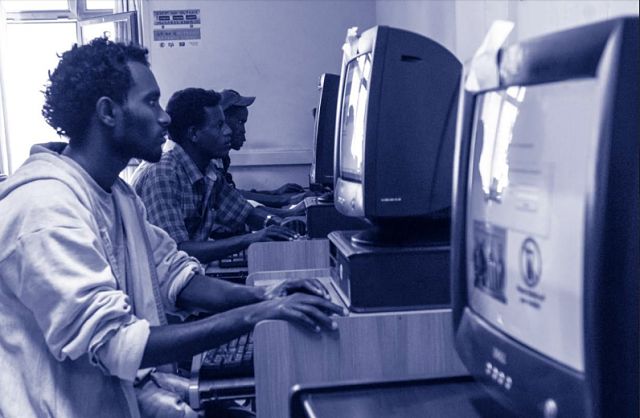 This study is a result of a two-year collaborative work between the University of Oxford & Addis Ababa University under the name "Mechachal," translated as "tolerance" in Amharic. (Courtesy photo)
Regarding the distinction made in the research between hate speech and dangerous speech, Gagliardone explained that "dangerous speech is speech that builds the bases for or directly calls for widespread violence against a particular group."
"Distinguishing it from hate speech may be important to understand how likely it is that words may turn into action," Gagliardone told Tadias. "Our findings indicate that only 0.3% of statements fall in this category. He added: "Distinguishing hate and dangerous speech also enabled the research to spot some specific features that characterize the most extreme forms of expression. When compared to hate speech, as well as to other types of messages, dangerous speech reflects a more deliberate strategy to attack individuals and groups."
Gagliardone noted that almost all dangerous statements in their sample are uttered by individuals seeking to hide their identity (92%). "This proportion is significantly lower for statements classified as hate speech (33%) and offensive speech (31%)," Gagliardone said. "In addition, while the majority of hateful statements can be found in comments, indicating a tendency for speakers to react angrily to what they read online, there is an equal chance of dangerous statements in posts or comments."
"Shifting the focus from speakers to targets, dangerous statements appear to focus exclusively on ethnicity," Gagliardone continued. "The salience of ethnicity can be found also in other types of messages. 75% of hate speech and 58% of offensive speech have ethnic targets, but they also target individuals based on their religion, and, to a much smaller extent, their sexual identity. This finding, more than others, is likely to be specific to the context of Ethiopia, where ethnicity has a central role in national debates, but it also offers new ground to explore some of the distinctive features of dangerous speech as compared to other form of speech."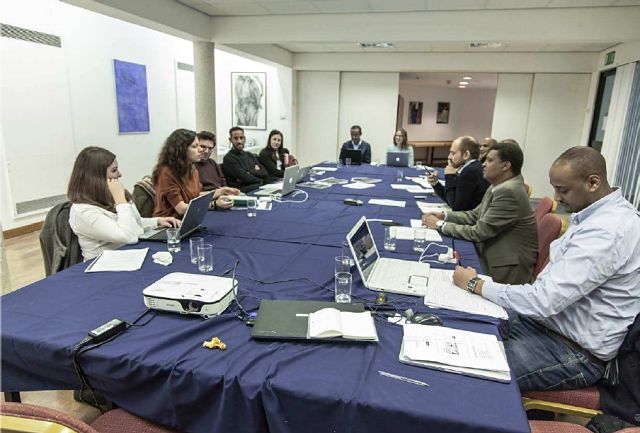 Part of the research team attending a methodology workshop in Oxford, December 2014. (Courtesy photo)
Below are the bios of key members of the Mechachal research team:
Iginio Gagliardone is Lecturer in Media and Communication at the University of the Witwatersrand and Associate Research Fellow in New Media and Human Rights at the University of Oxford. His research has focused on the relationship between new media, political change, and human development and on the emergence of distinctive models of the information society in the Global South. He holds a PhD from the London School of Economics and Political Science.
Matti Pohjonen is a Research Fellow for VOX-POL, a European Union Framework Programme 7 (FP7)-funded academic research network focused on researching the prevalence, contours, functions, and impacts of Violent Online Political Extremism and responses to it. His work focuses on developing comparative and practice-based research approaches to understand digital cultures in the developing world. Previously he worked as an AHRC post-doctorate and a Teaching Fellow in Digital Culture at the School of Oriental and African Studies (SOAS).
Abdissa Zerai is Assistant Professor at the School of Journalism & Communication, Addis Ababa University, where he focuses on the political economy of the Ethiopian media and ICT in the context of a democratic developmental state. He has been working on issues related to conflict reporting, political economy of communication, and the nexus between media, democracy & civil society.
Zenebe Beyene is Assistant Professor of Journalism and Communication, Director of Office of External Relations, Partnerships and Communications at Addis Ababa University, Ethiopia and NAFSA Global Dialogue Fellow. Dr. Zenebe has taught in Ethiopia, Rwanda and the U.S.A. His publications include Media use and abuse in Ethiopia, the role of ICT in peace building, state building and governance in Africa (with Abdissa Zerai), and Satellites, Plasmas and Law (with Abdissa Zerai and Iginio Gagliardone).
Gerawork Aynekulu is reading for a MSc in computer science at University of Belgrade, where he focuses on data mining. He has been working on text analytics of online Amharic textual resources.
Jonathan Bright is Research Fellow at the Oxford Internet Institute, which is a department of the University of Oxford. He is also an editor of the journal Policy and Internet. He is a political scientist specializing in political communication, digital government and computational social science.
Mesfin Awoke Bekalu is a Research Fellow at Harvard T.H. Chan School of Public Health, USA. Prior to his current post, he has been a postdoctoral fellow at the University of Leuven, Belgium and a lecturer in Journalism and Communications at Bahir Dar University, Ethiopia. His research interests include communication inequalities in the areas of health and development as well as media discourse analysis.
Michael Seifu is an independent researcher based in Ireland and has completed a PhD in politics from Dublin City University. He has been working on issues related to the politics of economic development.
Mulatu Alemayehu Moges is PhD candidate in the University of Oslo, at the Department of Media and Communication, where he focuses on conflict reporting in the Ethiopian media. He has been working as a Journalist in Ethiopian media, and as Lecturer and Researcher in Addis Ababa University, School of Journalism and Communication. 103
Nicole Stremlau is Head of the Programme in Comparative Media Law and Policy, Centre for Socio-Legal Studies, University of Oxford. Her research focuses on media and conflict in the Horn of Africa. She has worked extensively in Ethiopia, Somaliland/Somalia, Uganda and Kenya. As Head of PCMLP, she also directs the Price Media Law Moot Court Programme and co-directs the Annenberg-Oxford Media Policy Summer Institute.
Patricia Taflan is Research Assistant at the Programme in Comparative Media Law and Policy, University of Oxford. She completed an MSc in Criminology and Criminal Justice, also at the University of Oxford, where she focused on online hate crime.
Tewodros Makonnen Gebrewolde is PhD candidate at the University of Leicester, where he focuses on productivity growth and industrial policy. He has been working on issues related to economic growth and development of the Ethiopian Economy.
Zelalem Mogessie Teferra is PhD candidate in International Law at the Geneva Graduate Institute of International and Development Studies. His study focuses on the intersection between national security and the humanitarian norms of international law. He was previously an Instructor of Law at Jimma University (Ethiopia), Michigan Grotius Scholar in University of Michigan (U.S.A).
Below are the links to the final report:
Mechachal Online Debates and Elections in Ethiopia. Final Report: From hate speech to engagement in social media (Full Report)
—
Related:
A Collaborative Study of Online Debate in Ethiopia Reports Marginal Hate Speech
Join the conversation on Twitter and Facebook.