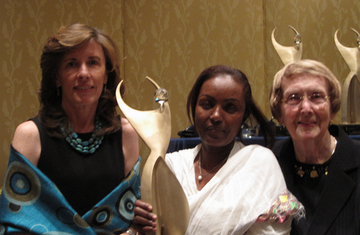 Above: At the 16th annual ATHENA Women's Leadership
Summit in Chicago, Dr. Mulu Muleta was presented with
the 2010 Global ATHENA Leadership Award. (Tsehainy)
Tsehainy.com
Posted here on June 8th, 2010
The ATHENA International Global ATHENA Leadership Award acknowledges, among many qualities, women who show excellence, creativity and initiative in their work; provide valuable services to improve the quality of life in their communities and whose work has national or international significance. While studying at Addis Ababa University Medical School, Dr. Muleta met the founders of the Addis Ababa Fistula Hospital, Reginald and Catherine Hamin. After graduating, Reginald Hamin recruited Dr. Muleta to work at the hospital. Read more.
Related:
Gates to spend $1.5 billion on women's health (The Seattle Times)