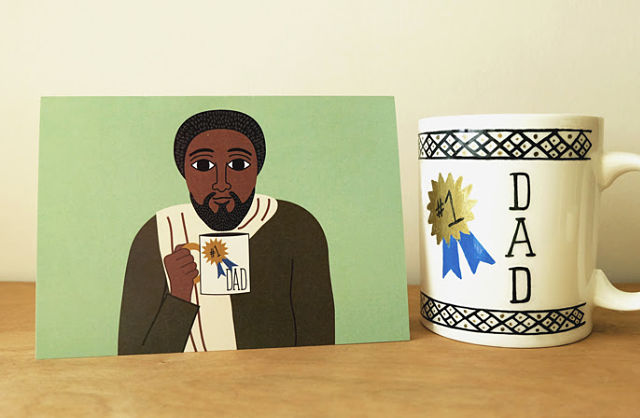 Tadias Magazine
By Tadias Staff
Published: Tuesday, June 9th, 2015
New York (TADIAS) — The latest release from Deseta Design holiday collection by Ethiopian American artist Mariam-Sena (Maro) Haile of Brooklyn, features a playful Father's Day card featuring her instantly recognizable Ethiopia-centric and fun artwork.
In the United States Father's Day is usually celebrated on the third Sunday of June and it's a special time to show your love and to honor the contributions of your parent. This year it falls on Sunday, June 21st.
"Does this imagery bring back good childhood memories?" Maro asked, announcing her 2015 Father's Day card. "And can you hear your dad now, inhaling each sip of his post-dinner tea with an intense focus on keeping out the steam, and completing each sip with a pronounced ahhhh-SAY!?"
Maro translates the motto for her label Deseta as "live happy." She says: "I am creating new and unique designs that touch on our rich Ethiopian design heritage but also with a universal appeal."
—
You can learn more and purchase Deseta products at www.deseta.net and Etsy at www.etsy.com/shop/deseta. You may also follow on instagram at Instagram.com/desetadesign or Facebook at www.facebook.com/desetaArtAndDesign
Join the conversation on Twitter and Facebook.