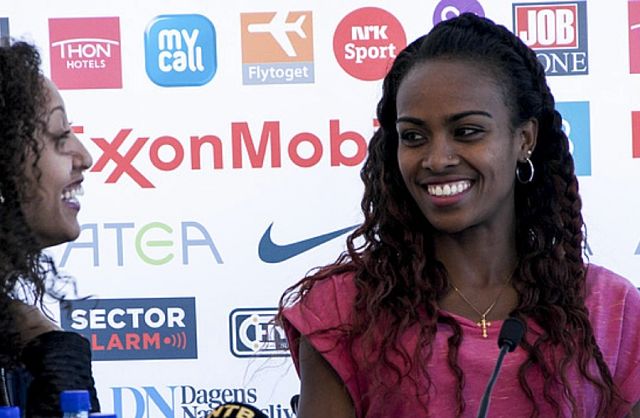 June 10, 2015
In a special tribute to the 50th anniversary of the ExxonMobil Bislett Games, Ethiopia's world indoor 3,000m champion, Genzebe Dibaba has officially revealed to the media her intent to break the world 5,000m record on Thursday.
The 24-year-old star explained the importance of continuing her family's fine record-breaking tradition in Oslo, with the task of eclipsing the 14:11.15 global twelve and a half lap mark – held by her elder sibling, Tirunesh Dibaba from her 2008 victory in the Norwegian capital – as the main goal.
With 29-year-old Tirunesh – a three-time Olympic champion, nine-time world champion, and winner here in 2003 and 2006 also – having moved away from the track in order to focus on the marathon distance, Genzebe Dibaba is determined to follow in her illustrious footsteps on the track:
The 2010 world junior 5,000m champion said of her appearance at the sixth leg of the worldwide IAAF Diamond League:
"I've spoken to my sister and she told me to use the unique atmosphere in the great stadium.
"My cousin, Meseret Defar (the 31-year-old double Olympic and world 5,000m champion) also broke the world record here (with 14:16.63) in 2007. She also won here in 2009 and 2013.
"I have run here before but I was never the one in focus – this time it is my turn to have the attention and I am looking forward to the experience."
Having recorded three world indoor records during the space of two weeks during the 2014 winter season with 3:55.17 for 1500m, 8:16,60 for 3,000m and 9:00.48 for two-miles, respectively, Dibaba is eager to translate her indoor form to the outdoor surface this summer:
"It feels more safe to run indoors – this is my first time attacking the 5,000m outdoor world record so I am a bit nervous but I am confident it will go well," she revealed.
Read more at Athletics-Africa.com »
—
Related:
The Dibaba Sisters at the 2014 World Athletics Gala in Monaco (Photos)
Join the conversation on Twitter and Facebook.