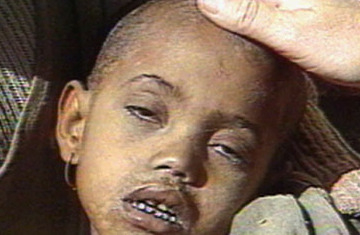 Desperation as Ethiopia's hunger grows (BBC)
Gavin Hewitt's report from south-west Ethiopia
By Gavin Hewitt
BBC News, Ethiopia
Monday, 9 June 2008
It is a strange and unsettling ride west from the Ethiopian town of Shashamene. The fields are vibrant green. There is water in the creeks. The soil is a deep rich burgundy.
However, the people here speak of a "green drought".
It is the time when the land is full of new shoots but there is no food. It happens because the last rains failed and few crops were planted.
A crowd gathers quickly. Some hold up their children. They want us to see the distended stomachs which are one sign of hunger.
The parents hope that, by seeing, we will take their children to a treatment centre.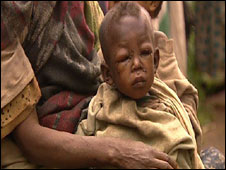 In every village there were vulnerable
children. You can sense the desperation
when you arrive in a village.
This happened in the village of Odo. A local priest had visited last week and had taken the most severely malnourished children for emergency care.
But others had been left behind, including a 12-year-old with shrunken limbs who suffered from malaria. Read More.