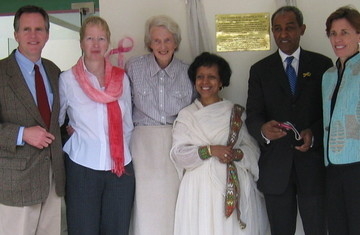 Above: Steve Saunders, Board Member, Anne Ferguson,
FF Operations Director, Dr. Catherine Hamlin, Founder of AAFH,
Abaynesh Asrat, Board Member, Kassahun Kebede, Board Chair,
Kate Grant, Executive Director on Opening Day.
(Photo: fistulafoundation.org)
The Hospital was financed entirely by a grant from the Fistula Foundation and its Tesfa Ineste program lead by Ethiopian and Ethiopian-Americans
Published: Friday, June 13, 2008
Santa Clara, California – The Fistula Foundation announced that the new Fistula Hospital in Harrar, Ethiopia began accepting its first patients on June 1, 2008. The Hospital was financed entirely by a grant from the Fistula Foundation and by the Ethiopian-American community in the United States, through the Tesfa Ineste program.
The new fifty-bed Hospital will provide fistula repair and rehabilitation to women in the entire eastern part of Ethiopia, who previously had no access to such care. It will also provide emergency obstetric services and fistula awareness outreach services in an effort to prevent obstetric fistulas from occurring in the first place. The Harrar Hospital is the fourth of five new regional facilities built by the Addis Ababa Fistula Hospital to serve women in remote parts of Ethiopia. A fifth hospital in the town of Metu is under construction.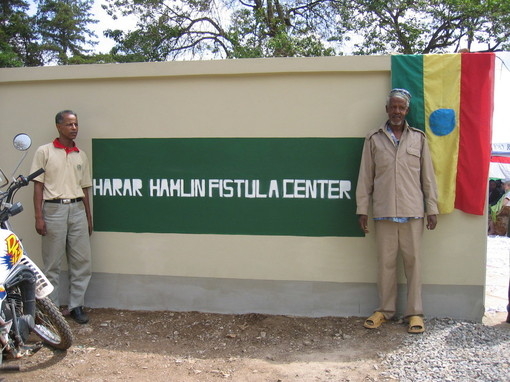 Opening day of Harrar Hospital. Photo: fistulafoundation.org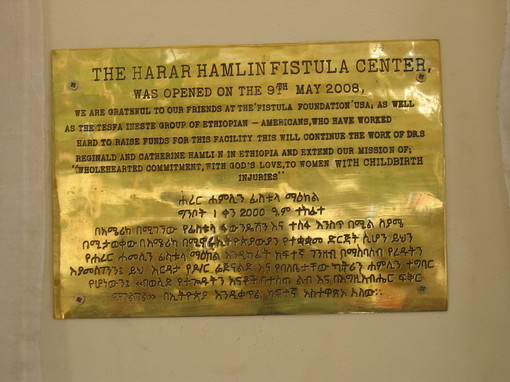 Plaque on the front of the new Hospital, honoring the Fistula Foundation and Tesfa Ineste.
Photo: fistulafoundation.org
The Hospital was inaugurated in a ceremony in Harrar on Friday, May 9, 2008. Dr. Catherine Hamlin, Addis Ababa Fistula Hospital founder, her son Richard Hamlin, Kassahun Kebede, Chair of the Fistula Foundation Board, and Abaynesh Asrat, Fistula Foundation Board Member and Tesfa Ineste Chair made remarks at the ceremony. Representatives from the Fistula Foundation were honored to participate in the inauguration, along with Ethiopian officials.
—–
Learn more at fistulafoundation.org