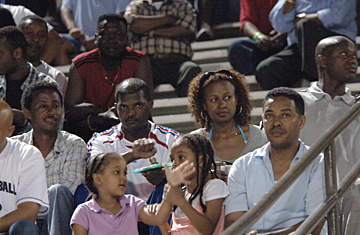 Above: The crowd at the 2007 tournament in Dallas.
Photo by Dagnu/ESFNA
By Tadias Staff
Published: Friday, June 13, 2008
Washington, DC (Tadias) – North America's largest African soccer tournament, hosted by the Ethiopian Sport Federation of North America (ESFNA) is being held in the nation's capital this year. The Washington D.C. Metropolitan area is home to the second largest Ethiopian population outside of Ethiopia, and tens of thousands of Ethiopian immigrants are expected to attend the D.C. event on July 4th weekend.
The tournament, which usually attracts youth and adults is adding special participatory events for children and families this year.
"In the past, we've done our best to accommodate children," ESFNA PR Officer Fassil Abebe said, "This year, we've asked the local organizing committee to keep kids in mind and have some activities for them." As for kids also being able to participate in sports including soccer, Abebe notes "we have it every year and this year is no exception. In fact there will be an all girls match." In preparation for the tournament, ESFNA's press release announced that soccer teams are conducting trial runs to select the 27 final teams that will compete at RFK Stadium between June 29 and July 5.
ESFNA's annual soccer tournament goes beyond sports entertainment, allowing families and friends in North America's Ethiopian immigrant population to come together in celebration of both sports and their cultural heritage. The tournament weekend is a popular time for networking, alumni gatherings, small business catering, music performances, and reunion parties. Local D.J. skills are displayed alongside traditional Ethiopian dances, which this year will also be part of a children's talent show.
"Our entertainment line up is still being worked on as we speak" Abebe says, but it's "safe to say that we will have famous cultural and contemporary artists accompanied by top notch musicians both at RFK on July 4th and the DC Armory on July 5th."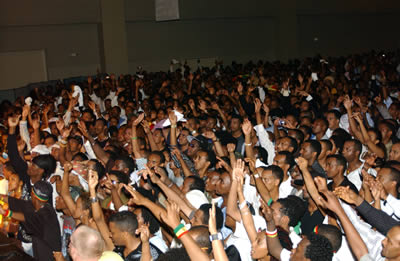 The crowd at the 2007 tournament in Dallas. Photo by Dagnu/ESFNA
The breadth of events and services provide an economic boon to local business, and being selected as a host city for the annual event is both a priviledge and a competitive endeavor. The general economic downturn, however, is one topic that the tournament's organizers have also reflected on.
"We've talked about the economy affecting our turn out. But, we've confidence in Ethiopians and friends of Ethiopia residing in or near D.C. to still come out strong and participate in the tournament." With a wisp of optimism Abebe adds, "The fact that our event has become a yearly pilgrimage, if you will, for lots of Ethiopian families will also help."
ESFNA has also announced that this year's tournament schedule will include a voter registration drive on July 4th as part of the strong Ethiopian-American grassroots campaigning for the November presidential elections. Battleground States such as Virginia, Colorado, Ohio, and Minnesota have large Ethiopian immigrant populations.
Abebe points to ESFNA's collaboration with Democratic support group Ethiopians for Obama. "We've been communicating about logistics for some time now. we've also assigned a contact person from our side to facilitate whatever Ethiopians for Obama might need during our tournament such as booth space, tables and chairs."
"In return," Abebe says, "Ethiopians for Obama are working very hard to have the Senator make an appearance if at all possible. Keep your fingers crossed."
The Washington D.C. metropolitan area is home to the nation's largest African immigrant population and the tournament's focus on both a children-friendly environment and voter registration drives is sure to add more positive experiences for loyal pilgrims.
——–
Related: Hot Shots: D.C. Soccer Tournament
Learn more about the D.C. Soccer Tournament at ESFNA.ORG