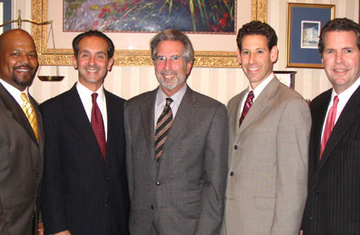 Above: (left to right): Claims Manager Rand Chatman, Partner
Joseph Cammarata, Partner Ira Sherman, Partner Allan Siegel,
Claims Manager Erik McConnell. (Photo: chaikinandsherman.com)
June 11th, 2008
Publisher's Note: A personal injury law firm with offices in Washington, D.C., Maryland, and Virginia, has created the Ethiopian Heritage College Scholarship Fund for high school graduating seniors. The deadline to apply is Friday, June 13th, 2008.
Here is the announcement from the Law Office of Chaikin, Sherman, Cammarata & Siegel:
In 2008, the Chaikin, Sherman, Cammarata & Siegel Ethiopian Heritage College Scholarship Fund was created in order to help members of the Ethiopian community pay for their college education. The purpose of the fund is to find and then help youngsters with few financial resources obtain a much-desired college degree so that they may then go serve the public. CSCS, P.C. strives to encourage the development of intellect, wisdom, and integrity in those they help, and the firm strongly believes this can be accomplished as can any other goal you long to achieve.
CSCS intends to award one scholarship per year to a resident of the Greater Metropolitan Area who is graduating from high school and has been admitted to, and will be attending, an accredited two or four year college or university on a full-time basis. The scholarship will be in the amount of $1,000 a year, paid in two equal payments on August 1 and February 1. The money must be used to help defer school expenses (i.e. tuition, room and board and books). The Greater Metropolitan Area of Washington D.C. is defined as including the Maryland counties of Montgomery, Prince George´s, Anne Arundel, and Howard and the Virginia counties of Arlington, Fairfax, Loudon, Prince Williams and the City of Alexandria.
The scholarship was publicized by contacting guidance counselors at area high schools to urge them to announce the availability of the scholarships to their students and encourage eligible students to apply. Student selection is made from applications submitted, which meet the criteria. No person related by blood or marriage to any member or former member of the selection committee is eligible for an award. Awardees are required to make reports each grading period concerning their grades and academic standing during the scholarship period. Payments will be withheld when a grantee is not performing satisfactorily.
Scholarship recipient will be chosen on the basis of financial need, high school grade point average, the essay submitted, demonstrated community service, and conclusions the selection panel might draw from a personal interview as to the individual´s motivation, character, ability, and potential.
———–
Learn More at chaikinandsherman.com