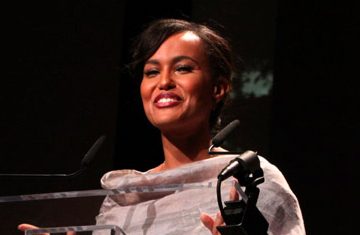 Above: NBC recently featured Ethiopian-American physician
Mehret Mandefro, one of this year's White House Fellows, on
a segment aired on Nightly News. (Photo: Parlour Magazine)
Tadias Magazine
By Tadias Staff
Updated: Thursday, June 17, 2010
New York (Tadias) – NBC's Tom Brokaw recently highlighted the work of Ethiopian American Physician, Mehret Mandefro, a White House Fellow in 2009-2010.
Brokaw hosted a segment on Nightly News featuring White House Fellows, a prestigious program designed to give promising leaders "first hand, high-level experience with the workings of the Federal government, and to increase their sense of participation in national affairs."
Mandefro was one of a diverse pool of Fellows hailing from various disciplines including medicine, business, media, education, non-profit and state government, as well as two branches of the U.S. military.
The White House Fellows Program was created in 1964 by President Lyndon B. Johnson and during its short existence it has fostered leaders in many fields including Admiral Dennis Blair, Director of National Intelligence, former Secretary of Labor Elaine Chao, retired U.S. Army General Wesley Clark, former Secretary of State Colin Powell, CNN Chief Medical Correspondent Dr. Sanjay Gupta, U.S. Senator Sam Brownback, U.S. Representative Joe Barton, writer Doris Kearns Goodwin, former Travelocity CEO Michelle Peluso, former CNN Chairman and CEO Tom Johnson, former Univision President Luis Nogales, and U.S. Court of Appeals Judges M. Margaret McKeown and Deanell Tacha.
WATCH

Visit msnbc.com for breaking news, world news, and news about the economy
Video:Dr. Mehret at the U.S. Conference on AIDS in 2008