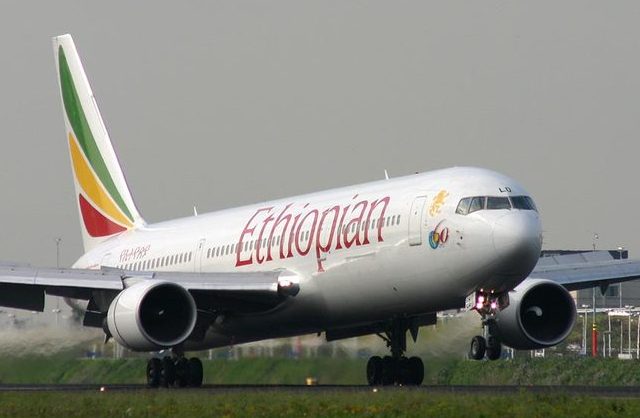 Tadias Magazine
News Update
Updated: Thursday, June 16, 2011
New York (Tadias) – The ash cloud from the Eritrean volcano that erupted earlier this week has temporarily rendered parts of East Africa's air space unsafe for commercial jets to fly.
More airline companies have followed Ethiopian and Lufthansa in announcing further suspensions of flights to the region.
According to BBC, Kenya Airways said it was no longer flying on the Ethiopia-Djibouti route and Dubai's Emirates airline said it had canceled flights to the Ethiopian capital, Addis Ababa.
Both Ethiopian Airlines and Lufthansa announced on Tuesday that some of their flights have been canceled.
"Due to the volcanic eruption that resulted in ash cloud, Ethiopian flights to Northern Ethiopia, Khartoum and Djibouti are currently affected," Ethiopian Airlines said in a statement via its website.
According to Lufthansa's website, flights from Frankfurt to Addis Ababa have been interrupted.
Turkish Airlines made similar announcement on Tuesday, listing cancellations of several destinations to East Africa – including Istanbul-Addis Ababa, Istanbul-Khartoum, Istanbul-Entebbe, Istanbul-Nairobi, Dar Es Salaam-Nairobi, Nairobi-Istanbul.
Sudan Tribune reports that the low-cost carrier Fly Dubai has also suspended service to the Ethiopian capital.
"We are closely monitoring" the situation, Getachew Tesfa, a spokesman for Ethiopian Airlines, told Bloomberg News. "As things get better we are ready to operate. All other flights are operating."
EAL advised it's customers to contact its ticket offices or their travel agents about the status of their flights, especially to the named destinations.
The long-dormant volcano erupted in the early hours of Monday morning in Eritrea, spewing ash cloud across East Africa, causing airlines to brace for air travel disruptions, and forcing U.S. Secretary of State Hillary Clinton to shorten her visit in Ethiopia.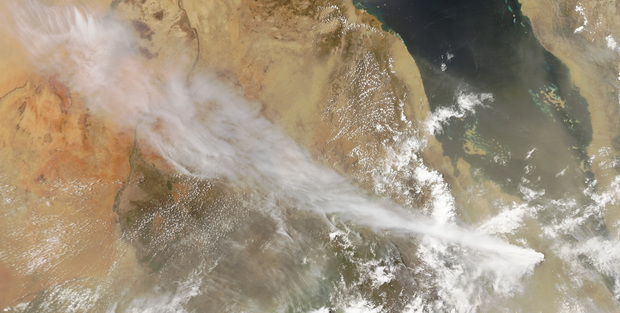 Above: Initial reports from news agencies and the Volcanic Ash Advisory Center in Toulouse, France, proclaimed the eruption to be occurring at Dubbi, a volcano further south. But later reports from volcanologists, field scientists, and the satellite image above appear to confirm the eruption at Nabro. There are no historical reports of eruptions at Nabro before this. (NASA satellite image on June 13, 2011)
The independent earthquake monitoring website Earthquake-Report.com notes: "During the late afternoon and evening of June 12, 2011, a series of moderate earthquakes struck the Afambo, Eritrea area. The moderate earthquakes were followed by 2 strong 5.7 earthquakes."
"Charts on the website of the France-based Volcanic Ash Advisory Centre (VAAC) showed the eruption throwing an ash cloud 13.5 km (8.4 miles) up — a potential blight on airlines," Reuters reported.
The news agency said Satellite images obtained by VAAC showed the cloud was moving towards Saudi Arabia.
Per BBC: "Atalay Ayele of the Geophysical Observatory Centre of Ethiopia's Addis Ababa University said the size of the ash cloud was decreasing."
"The ash's direction and its intensity were very high on Sunday, but… the Modis [Moderate Resolution Imaging Spectroradiometer] satellite shows a weakening," he said.
–
Video : Quake TV - This video was recorded just before [Quake TV] received the official notification from the Eritrean government that nobody was seriously injured in the explosion and eruption. It gives a better impression of the whole story.
Video: Quake TV – This is a video report explaining events [on June 13, 2011] in and around the Nabro volcano in Eritrea.
Video : Quake-TV – This is a 9 second Eumetsat weather satellite image series showing the eruption plume of the volcano in RGB color.
Related:
Eritrea Volcano Activity : Eruption Increasing Again (Earthquake Report)
Volcano erupts in Eritrea after earthquakes (Reuters)
Eritrea ash disrupts air travel (BBC News)
–