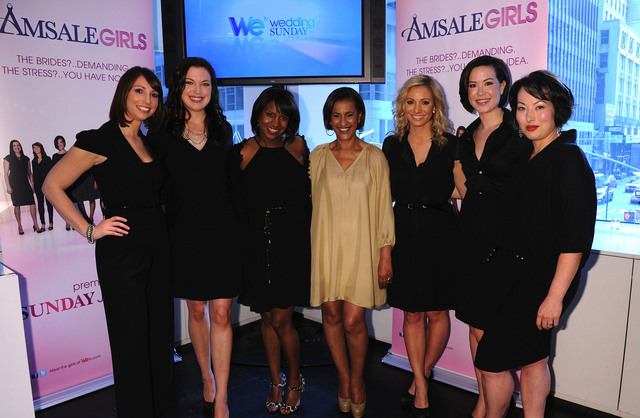 Tadias Magazine
By Tadias Staff
Published: Thursday, June 16, 2011
New York (Tadias) – Couture bridal-fashion designer Amsale Aberra's new reality show, Amsale Girls, is currently airing on the women's network WE TV.
Amsale, who is originally from Ethiopia and whose elegant designs are favorites among celebrities, has dressed everyone, including Julia Roberts, Halle Berry, Salma Hayek, Heidi Klum, Selma Blair, Lucy Liu and Katherine Heigl, among others.
The hunt for the perfect dress at her Upper East Side New York boutique begins with her employees who work endlessly to meet their boss's high expectations in search of the right dress for each unique bride.
The reality show, a six-hour episode series, goes behind-the-scenes of this luxury bridal salon that caters to high-maintenance clientele, with gowns donning price tags of $4,000 to $75,000, revealing Amsale's sales consultants as the best in the business.
"For these ladies, it's more than just finding a bride her dream dress…being a bridal consultant at Amsale means navigating family disagreements, stroking egos and bending over backwards to move the merchandise," WE TV said an emailed statement. "Inside the shop, these ladies are often pitted against each other as they work to make their monthly sales numbers, yet outside, they're girlfriends, helping each other in their personal lives."
WE TV describes Amsale Girls as a show that "goes inside the high-pressure world of the bridal industry and reveals what it's really like to work at a premier high-end dress salon."
"The ladies may have fun and love what they do, but it's not a profession for those easily deterred," the company said. "Challenging, stressful and, at times, an emotional rollercoaster, being an Amsale girl means constantly managing differing personalities, drama, personal issues and career aspirations, all with grace, composure and a smile."
–
Learn more about the show at www.wetv.com.
Video: Clip from Amsale Girls

Video: Clip from Amsale Girls – Kori steps up

Cover Image:
Amsale Aberra (C) and cast members during the private screening party for the
WETV show Amsale Girls, held at the Amsale Showroom in New York City,
Wednesday, June 8, 2011. Photo by Jennifer Graylock – Graylock.com.