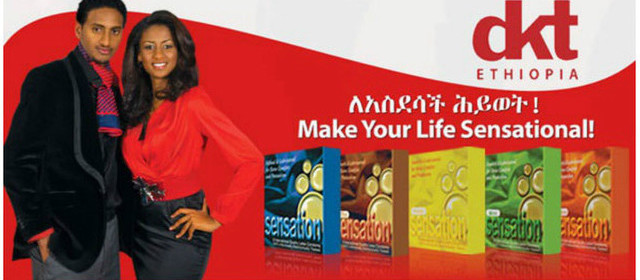 The New York Times
OP-ED
By JAMES JEFFREY
June 19, 2014
ADDIS ABABA, Ethiopia — I was confused the first time I saw a giant billboard in Addis Ababa advertising Members Only and stressing how "membership has its pleasures," accompanied by a stark silhouette of a leggy female figure. It reminded me of advertisements in New York for so-called gentlemen's clubs — not the sort of places you tend to find in Ethiopia's capital, where levels of disposable income and where that money goes differ markedly.
Members Only turned out to be the latest condom brand released by DKT Ethiopia, an American nonprofit that since 1989 has sold Ethiopia's most popular brands. DKT's condoms are usually sold well below market cost, heavily subsidized, as part of the effort to tackle problems like H.I.V. and to improve family planning for the country of about 95 million. Ethiopia has the second largest population in Africa, projected by the World Bank to grow to 145 million by 2050.
Condom use in Ethiopia has proved effective in helping stem the spread of H.I.V. Currently, the adult prevalence of infection is relatively low, about 2.4 percent, although that still represents a large number of people with H.I.V.
Although gross domestic product growth has averaged 10 percent a year since 2007, World Bank data from 2011 indicated that nearly 30 percent of Ethiopians still lived in poverty, subsisting on less than $2 a day. Rapid economic growth and grinding poverty exist side by side in Ethiopia, complicating the issue of how best to supply condoms.
DKT is counting on that growing economy as it experiments with a move from a largely subsidized model to a commercially self-sustainable one. It has chosen not to subsidize the Members Only brand in an attempt to get a clear picture of what consumers might be willing to pay for condoms.
Read more at NYT.
—
Join the conversation on Twitter and Facebook.