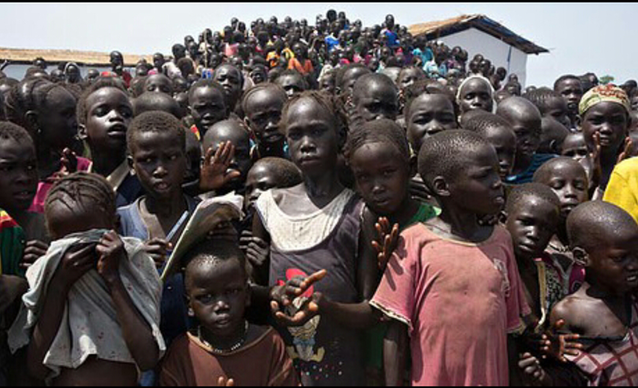 19 Jun 2014
ADDIS ABABA – As South Sudanese continue to flee their conflict-torn homeland, the United Nations World Food Programme in Ethiopia marks World Refugee Day with an urgent appeal for US$50 million to meet the needs of nearly 150,000 who have sought shelter here since the conflict began in December 2013–and for our larger refugee response.
"Thanks to its generous open-door policy, Ethiopia currently hosts the largest number of South Sudanese refugees of any neighbouring country," said WFP Ethiopia's Country Director, Abdou Dieng. "If WFP is to meet their food and nutritional needs, we need a massive and rapid influx of funds. Otherwise, we risk running out of food for our refugee operation in Ethiopia by the end of August."
In Rome, WFP Executive Director Ertharin Cousin highlighted the devastating fallout of the humanitarian crises in South Sudan and in several other nations where conflict has uprooted millions. Roughly 45.2 million people are forcibly displaced worldwide, including half-a-million people who have fled the renewed violence in Iraq, according to the UN refugee agency, UNHCR.
Working with the UNHCR and other partners, WFP assisted 4.2 million refugees and 8.9 million internally displaced people around the world in 2013.
"As the newly displaced join the ranks of those already forced from their homes by conflict or natural disaster, no one should feel alone and without help. No refugee should ever feel forgotten," Cousin said. "Together with our colleagues at UNHCR, partner organizations and donor governments around the world, we are diligently responding to their urgent and life stabilizing needs."
In Ethiopia, WFP assists roughly 550,000 refugees from neighbouring countries, including the latest influx of asylum-seekers from South Sudan. At the border points, we are distributing calorie-packed High Energy Biscuits to give an immediate boost to the many South Sudanese who arrive here exhausted and famished, after walking for days to reach safety.
WFP also distributes rations of grains, pulses, vegetable oil, sugar and salt at camps and border points. And we are providing special nutritional supplements to counter often alarmingly high malnutrition rates among the most vulnerable, notably young children, pregnant women and nursing mothers.
"The fighting has prevented people from planting their fields," WFP Country Director Dieng says of South Sudan. "This will push more people to flee their country – this time not because of conflict, but because of hunger. All the more reason for the international community to give generously to those in need."
—
Join the conversation on Twitter and Facebook.