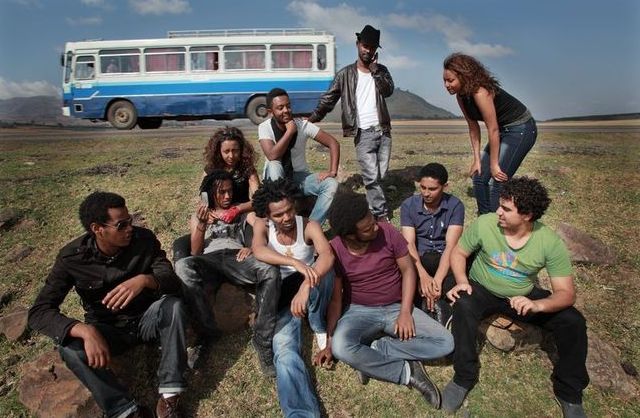 Tadias Magazine
By Tadias Staff
Updated: Friday, June 22, 2012
New York (TADIAS) – When it comes to world music, New York-based producer Bill Laswell is convinced that the next big act coming out of Ethiopia is a young rock band called Jano – a ten member ensemble that fuses distinctly Ethiopian sounds with heavy guitar, drum and other instruments.
"I think they were probably deeply influenced by the great musicians of Ethiopia, the great singers without question," said Laswell in a recent interview with TADIAS. Laswell, who has put together the band's forthcoming CD, has an extensive resume including work with Ethiopian vocalist Gigi, among others.
Regarding Jano, he added: They have "progressive sounds. It's very new and very different. Nothing like this ever came out of Ethiopia."
Laswell said what makes the young musicians unique is that they manage to keep the traditional Ethiopian vibe while appealing to global music lovers. "You hear old songs by singers from the 60′s inside of the rock," he said. "Another interpretation that might upset some people but carries on the tradition in a modern way." He continued: "These are modern instruments but it does not overlook the kirar, it does not overlook masinko, it does not overlook the traditional singing, the church music and the power of the tradition. It does not take that for granted. They don't join the ranks of Ethiopian music, they break the rules."
The group consists of four vocalists (two male and two female), two guitarists, two keyboard players, a bassist and a drummer – all in their twenties.
According to Laswell, the band was talent-spotted by Ethiopian entrepreneur Addis Gessesse who is also credited for helping to launch the careers of reggae star Ziggy Marley and Ethiopian pop icon Teddy Afro.
As to the release date for Jano's album, Laswell said they have an unconventional marketing strategy worked out. "The album is done and the packaging is done and they are in the process of creating it now in Ethiopia, and probably it will come here soon," he said. "It will come as a word-of-mouth and not so much as a marketing distribution build up how America does things, but more to do with getting that interest to communities." He added: "I think it will start in the Ethiopian community and hopefully it will build into what the world calls the 'World Music' genre, which is pretty big internationally."
Watch: The Ethiopian Rock Band Jano – Interview with Producer Bill Laswell (TADIAS TV)

—
Related:
Jano Band to Perform at SOB's in New York
Tadias Video Interview: Ethiopian Rock Band Jano Live in DC (UPDATED)
Join the conversation on Twitter and Facebook