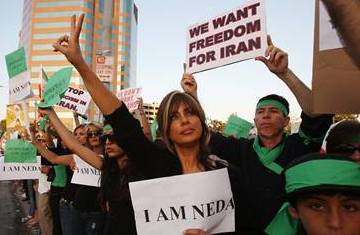 Above: L.A, CA – June 21 (MSNBC):
Iranian-Americans and supporters hold signs to identify with a girl known as Neda, believed to be a teenager, who was shot dead at a protest in Tehran, as Iranian-Americans and supporters protest what they say are crimes against humanity and democracy committed by the government of Iran…(Photo by David McNew/Getty Images)
HuffPost asks Obama a question about Iran at press conference
Obama's prepared remarks:
The United States and the international community have been appalled and outraged by the threats, beatings, and imprisonments of the last few days. I strongly condemn these unjust actions, and I join with the American people in mourning each and every innocent life that is lost.

I have made it clear that the United States respects the sovereignty of the Islamic Republic of Iran, and is not at all interfering in Iran's affairs. But we must also bear witness to the courage and dignity of the Iranian people, and to a remarkable opening within Iranian society. And we deplore violence against innocent civilians anywhere that it takes place.[...]

This is not about the United States and the West; this is about the people of Iran, and the future that they – and only they – will choose.
Here is the latest:

Video: Iran Issues Warning to Online Media The Associated Press

Jon Stewart Mocks CNN's Iran Coverage: