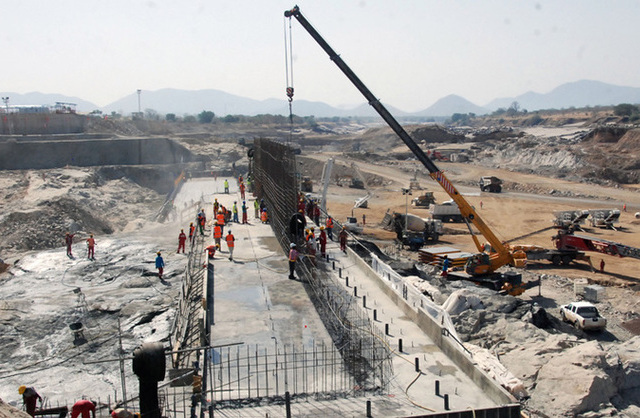 By William Davison
GUBA, ETHIOPIA – Egypt is newly worried about a huge Ethiopian dam now under construction on the Nile's main tributary – a concern that reflects arid Egypt's overwhelming reliance on the world's longest river.
Egypt and the Nile are bound together: The Nile, called "God's gift to Egypt," helped the nation become one of the first agricultural civilizations, and it still supports most farming there.
But Ethiopia – the source of almost 86 percent of the water flowing to Egypt – is equally adamant that it has been denied a fair share of the river by agreements between Sudan and Egypt in the 1950s that divided the river between them.
Ethiopia two years ago started building what will be Africa's largest dam on the Blue Nile. It is a clear indication, despite anger from Egypt, that upstream Nile countries will no longer simply accept what they feel are inequitable water-sharing deals.
Read more at CSM.
—
Related:
Egypt Should Welcome Ethiopia's Nile Dam (Bloomberg Editorial)
Maaza Mengiste Says "The Nile Belongs to Ethiopia Too" (The Guardian)
Hydropolitics Between Ethiopia and Egypt: A Historical Timeline (TADIAS)
Visualizing Nile Data – Access to Electricity vs Fresh Water (TADIAS)
—
Join the conversation on Twitter and Facebook.