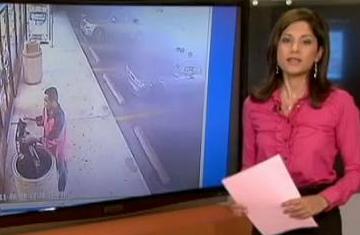 Above: Gejea Ejeta is recovering after being pushed through
a 7-11 window… Police say know who was driving the Dodge.
Tadias Magazine
News Update
Monday, June 27, 2011
Philadelphia – Yeadon police say the woman wanted for a shocking hit-and-run captured on surveillance video will turn herself in on Friday, NBC Philadelphia reports.
Surveillance cameras captured a car crashing into a 7-11 store and an employee – 24-year-old Gejea Ejeta – being thrown through the front of the building.
Per NBC: "On Thursday, June 9, around 10:30 p.m., police responded to a car accident at the 7-11 store on Church Lane in Yeadon."
"The video shows a Dodge Caliber park in front of the 7-11. The female driver and a male passenger then get out of the car and walk to the side of the store…the two go back into the car several minutes later. The car is then seen backing up and then speeding forward toward the store, striking another car that was entering a parking spot," according to NBC Philadelphia.
"The car careens off the other vehicle and accelerates over the curb, striking Ejeta who happened to be standing outside. Ejeta is seen flying through the front window as the car crashes into the store."
"Ejeta, an Ethiopian immigrant who speaks little English, was taken to the hospital where he was treated for his injuries. Though Ejeta is recovering well, he's still not healthy enough to return to work."
Watch:

View more videos at: http://nbcphiladelphia.com.