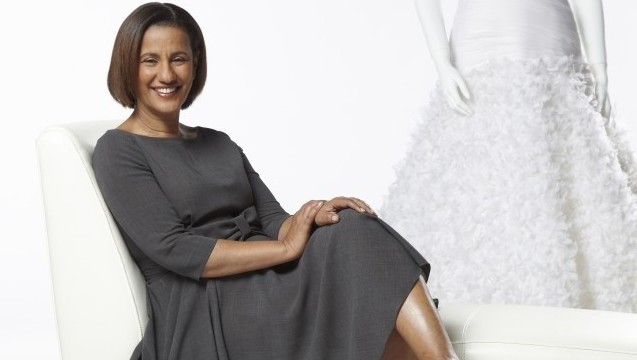 Update:
Click here: Full version of the interview With Amsale
Tadias Magazine
Interview by Tsedey Aragie
Updated: Monday, July 4, 2011
New York (Tadias) – In a recent interview with Tadias, Ethiopian American couture bridal-gown designer and entrepreneur Amsale Aberra discussed her new reality TV show Amsale Girls, her success in the fashion industry, her memories of Ethiopia, her musican daughter Rachel Brown and more.
Amsale, 58, who came to the United States from Ethiopia in 1973, is one of the most sought after bridal and evening-wear designers in the United States. Her sophisticated and elegant dresses are favorites among celebrities and she has dressed Hollywood's A-list, including Julia Roberts, Halle Berry, Salma Hayek, Kim Bassinger, Uma Thurman, Anna Paquin, Heidi Klum, Selma Blair, Lucy Liu and Katherine Heigl, among others. Kate Hudson filmed the big screen adaptation of Something Borrowed at Amsale's Madison Avenue boutique.
Model Maya Haile wore an Amsale gown during her wedding to renowned chef Marcus Samuelsson at their reception in Addis Ababa.
Amsale Aberra's new reality show, Amsale Girls, is currently airing on the women's network WE TV. The six-hour episode series goes behind-the-scenes of this luxury bridal salon that caters to high-maintenance clientele, with gowns donning price tags of $4,000 to $75,000, revealing Amsale's sales consultants as the best in the business.
Below is the preview of our interview with Amsale. It was taped in her office in New York City on Tuesday, June 28, 2011. The full video will be posted next week.
Watch: