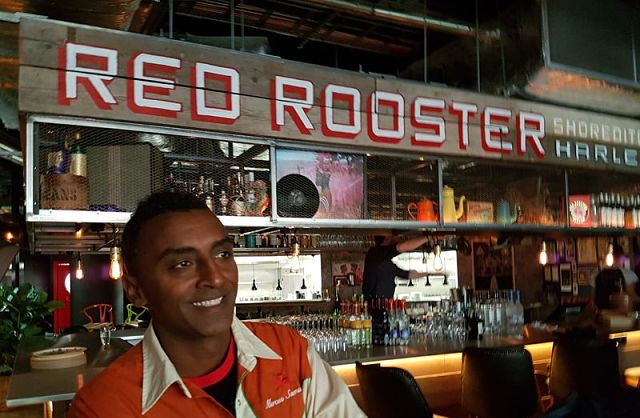 Tadias Magazine
By Tadias Staff
June 27th, 2017
New York (TADIAS) — Chef Marcus Samuelsson has expanded his popular Harlem restaurant business across the pond, opening a new Red Rooster in London late last month. The restaurant, which is housed inside the elegant Curtain Hotel in the East London neighborhood of Shoreditch, is the first Red Rooster location outside of New York City.
As Bloomberg News points out: "Red Rooster became a hit in Harlem thanks to chef Marcus Samuelsson's take on Southern comfort food — and became internationally famous because former President Barack Obama was a huge fan. He even held a fundraiser there. The first foreign outpost of Red Rooster opens at the new Curtain Hotel in London's hip Shoreditch neighborhood. About half the menu will be the same as the New York location: There will still be chicken 'n waffles for £10 ($13), fried yard bird (£19) and the Obama short ribs (£33), a recipe fit for a president. But he's using some local ingredients and adding dishes to reflect his background, such as Uncle T's herring (£8). Plus, there will be a taqueria called Tienda Roosteria."
Why London?
The Ethiopian-born, Swedish-raised celebrity chef and author says that like New York he is attracted to London for it's multiculturalism. "New York is a world city, and so is London, but London has a different kind of diversity than New York and I thrive off that," Marcus told The Globe and Mail. "We wanted to find a neighbourhood that matched the excitement of Harlem, and felt that Shoreditch and London, as a town, really matches New York." He added: "It has incredible mystique, funk and coolness. I've been asked to open a new Red Rooster every week for the past four and a half years, and I always say no. When you walk into the restaurant, the first thing you'll see is a taqueria inspired by the barrio. We have a huge Latin community in east Harlem."
"Samuelsson, 46, became a star early in his career more than two decades ago, as he earned a three-star review from The New York Times as the chef at Aquavit. Now his brand and marketing empire has expanded to restaurants in Bermuda, Sweden, and Norway, and he's a regular on shows such as Chopped and Iron Chef America."
—-
Related:
5 Things to Know About Marcus Samuelsson's London Red Rooster
Join the conversation on Twitter and Facebook.