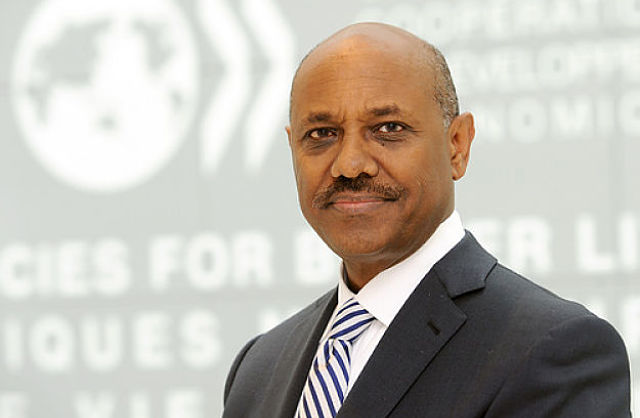 Tadias Magazine
By Tadias Staff
Updated: Friday, July 1st, 2016
Meet Ambassador Daniel Yohannes: The Ethiopian American U.S. Rep to OECD
New York (TADIAS) — Ambassador Daniel Yohannes is currently the most senior Ethiopian American U.S. public official. He is the United States Permanent Representative to the Organization for Economic Co-operation and Development (OECD). Appointed by President Obama on September 11, 2013, and confirmed by the U.S. Senate on April 9, 2014 to his present diplomatic post.
"A former banker from Englewood, Colorado Mr. Yohannes has more than 30 years of experience in banking and economic development," notes the U.S. State Department. "Prior to his appointment, Mr. Yohannes served for more than four years as the Chief Executive Officer of the Millennium Challenge Corporation (MCC), the State Department adds. "Under his leadership, MCC started or completed investments of more than $9 billion in 25 countries on projects that lifted more than 173 million people out of poverty. In 2013, Mr. Yohannes was awarded the Secretary's Distinguished Service Award by then-Secretary of State Hillary Clinton, in recognition of his outstanding leadership at MCC."
Per OECD: "Mr. Yohannes graduated from Claremont McKenna College with a B.A. in Economics and earned an M.B.A. from Pepperdine University. Born in Addis Ababa, Ethiopia, he is fluent in Amharic. Prior to his government service, Mr. Yohannes was the President of M&R Investments, a firm specializing in financial services and the renewable energy sector. Before launching M&R Investments, Mr. Yohannes was a leader in the financial services industry, working in various roles throughout his career including as Vice Chairman and member of the Management Committee of U.S. Bank, President and CEO of Colorado National Bank, and as the Executive Vice President of Security Pacific Bank (now Bank of America). Passionate about protecting the environment and creating practical methods for implementation, in 2006, Mr. Yohannes co-founded the New Resource Bank in San Francisco, California, to invest in green projects and environmentally sustainable businesses in the community. He also served as Chairman of the Greenprint Council, a leadership group established by the Mayor of Denver focused on improving the environment of cities and reducing greenhouse gas emissions."
During his remarks delivered at the Ethiopian American Policy Briefing hosted by the White House Office of Public Engagement on June 8th, Ambassador Daniel told the audience: "While I'm very proud of my heritage, history, culture, and tradition of Ethiopia, I am equally proud of the unmatched opportunity that this country, the country that I chose, has provided to me. America's melting pot is the recipe for success, and as daughters and sons of Ethiopia born there, or the first, second and third generation born here we're a part of that mix. I stand before you precisely because I've been where you are today. I can tell you first-hand that what we make of our immigrant experience is up to us. So I encourage you to get informed, get educated, and get involved."
Audio: Meet Ambassador Daniel Yohannes: An Ethiopian American U.S. Representative at OECD
—
Join the conversation on Twitter and Facebook.