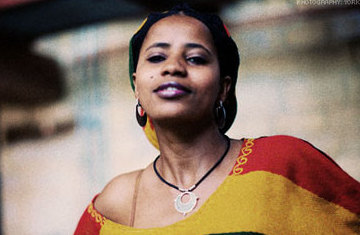 Above: Dub Colossus in a Town Called Addis was inspired by
meeting, writing and working with Ethiopian singers and
musicians in Addis Ababa in August 2006, including Singer
Sintayehu 'Mimi' Zenebe (Pictured above).
Financial Times
By David Honigmann
Published: July 3 2009
One of the certainties of life in Addis Ababa is that the rainy season will knock out the phone network. Tsedenia Gebremarkos-Woldesilassie, one of Ethiopia's most celebrated and decorated singers, is driving through the city at high speed, yelling into her mobile, intermittently apologising as the line fractures and drops, recalling the encounter that will soon bring her to England. Read More.