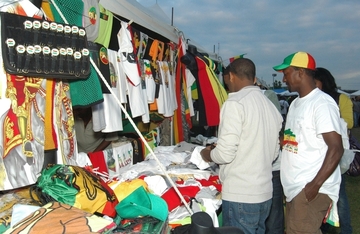 Tadias Magazine
Photos by Nolawi Petros
Updated: Saturday, July 3, 2009
Chicago (Tadias) – The Week-long annual Ethiopian Soccer Tournament, which opened in Chicago on June 28, will conclude this weekend with a cultural festival and the final games to be held at Lane Tech Stadium.
Although we don't have actual numbers, the crowd in Chicago seems smaller than the 2008 turnout in Washington D.C.; the festivities however are just as upbeat. Organizers are gearing up for their signature Ethiopia Day Celebration, a popular and colorful cultural display of music, dance and food. Last year's event featured Ethiopian music legend, the late Tilahun Gessesse. The 2009 ceremonies honor another cultural icon and musician, Mulatu Astatke, among others.
As for the soccer competition: So far over 45 games have already been held involving 27 teams representing various cities from the U.S. and Canada. Four teams have advanced to the semifinals including San Francisco, Atlanta, Seattle and the defending champions, Washington D.C.
The following images were captured by Nolawi Petros for Tadias Magazine.