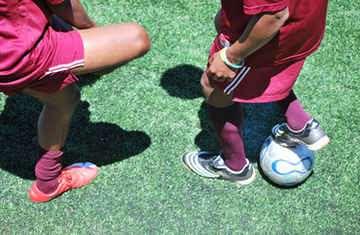 Above: The Ethiopian soccer tournament opened in Atlanta
on July 3rd. (Photo 2010 by Kal Kassa/Tadias Magazine file)
Tadias Magazine
Events News
Updated: Tuesday, July 5, 2011
New York (Tadias) – The 28th edition of the Ethiopian Soccer Tournament in North America, which runs through July 9th, is underway in Atlanta, while the First Annual Ethiopian Heritage Festival in Washington, D.C., concluded on July 3rd.
The 2011 soccer tournament marks its fourth return to Atlanta. The city's Ethiopian soccer team is also four time champion of the national competition, bringing the trophy home in 1994 and 1997 while winning the cup at home games in 1998 and 2005. Atlanta hosted the ESFNA soccer tournament & festivities in 1986, 1998, and 2005.
The D.C. festival also featured sports competition among other entertainment programs, including cultural performances, poetry readings, author's circle, art exhibition, children's games, coffee ceremony, food and more.
The Atlanta event goes far beyond sports entertainment, allowing families and friends in North America's Ethiopian immigrant community to come together in celebration of sports and their cultural heritage. The tournament week is a popular time for networking, alumni gatherings, small business catering, music performances, and reunion parties. Hosting also offers a variety of benefits to the community, including local economic impact stemming from hotel, transportation, food and other-related purchases.
—
Stay tuned for more coverage of these events.
You can learn more about the Atlanta soccer tournament at www.esfna.net. More information about the D.C. festival can be found at www.ethiopianheritagesociety.org.
–
Cover Image: At the 2010 San Jose Ethiopian Soccer Tournament by Kal Kassa.
Related from Tadias archives:
Photo Journal: San Jose Ethiopian Soccer Tournament 2010
–
Photos from Chicago: Ethiopian Soccer Tournament 2009 (Tadias)