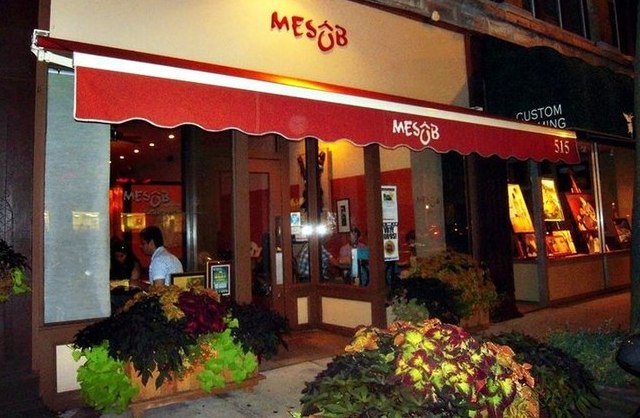 Tadias Magazine
Events News
Updated: Sunday, July 3, 2011
New York (Tadias) – At a fundraiser on Monday, June 27, a sold-out crowd donated $30,000 to a campaign aiming to raise funds to help renovate a recently purchased building in West Orange, New Jersey to house Amanuel Ethiopian Orthodox Church, the state's first Ethiopian owned church property, organizers said.
The event held at Mesob Restaurant in nearby Montclair was an intimate dinner, which brought together a diverse group of people that gave at least $100 per person.
"The kick-off fundraising event is one of many efforts to raise funds to convert the building we are buying into a church," Tezeta Roro, a member of the Church's Fundraising Committee and the event's Master of Ceremonies, said via email. "As you may know, renovating funds are not usually granted for non-residential properties along with a mortgage so we are tasked with raising enough funds for the renovation for which this event is one of many to come."
The Debre Genet Amanuel Ethiopian Orthodox Tewahedo Church was founded in West Orange, New Jersey, in 2006. "Before that a few of us used to go to Church in New York…I went to Church in New York for about 18 years," said Mr. Tekeste Ghebremicael, Vice Chairman of the Church's Board of Directors. "Yes, this is the first Ethiopian Orthodox Tewahedo Church in the state of New Jersey. We are making history. We hope to open several other Ethiopian Orthodox Tewahedo Churches in New Jersey in the future."
Mr. Tekeste adds: "During the [previous] 18 years the Ethiopian and Eritrean community in New Jersey grew big enough that it is now able to establish and sustain its own local church."
Regarding the Kicking off dinner, Tezeta stated: "Our goal was to raise $30,000 at the event. Tickets were sold out. The event went very well. The fundraising committee worked diligently by holding late night conference calls and working with our networks to make the final product fruitful. We are more than satisfied with the turnout. It shows how Ethiopians, non-Ethiopians…can come together to make a difference."
The building is located at 15-19 Meeker Street in West Orange, New Jersey.
Video: Slideshow of Photographs – The kick-off Fundraising Dinner at Mesob on June 27, 2011

Speaking about the property, Mr. Tekeste said the following in an emailed statement:
"The new Church will be located at 15-19 Meeker Street West Orange, New Jersey. It is only about 8 houses from where we are now worshiping. The new Church will have 3 different buildings. In the front there is a building that has two three bedroom apartments on the second floor and an office with a warehouse on the first floor. This building is fully rented. In the back there is this huge two floor building that stores 14 to 17 antique cars in the first floor and the second floor is rented for now, however it will be converted to a church and an assembly hall with a full kitchen and male and female bathrooms. On the side there are 5 bays and one small office that are rented to different contractors. There is space to park about 45 to 50 cars. We have completed negotiations to purchase the building with the sellers. However, we are awaiting approval from the West Orange Township Zoning Department for Zoning Variance approval. We have hired Zoning expert Lawyers, Architects, Traffic experts, and Structural Engineers to help us process this application. It will take about 3 months from now for the whole process to be completed. Our experts do not expect any complications during the approval process. It is just a formality that is required to legally change the use of the building from a warehouse to an assembly hall (Church). The remaining part of the building will generate an income of $7,000.00 per month excluding the 2nd floor we are going to use as a church and assembly hall. We are buying these 3 buildings for $725,000.00 and we are borrowing $500,000.00. We do have a written Mortgage Commitment and our monthly mortgage payment including Insurance and Property Taxes will be less than $7,000.00. This means once we conclude the purchase of these buildings they will generate enough income to support the monthly mortgage payment while we are using the Church and Assembly Hall for free."
–
Publisher's Note: This story was updated on Sunday, July 3, 2011 with additional comments from Mr. Tekeste Ghebremicael, Vice Chairman of the Church's Board of Directors.
You can learn more about the renovation project of the newly purchased building and/or donate online at www.aeotc.org.
Cover image: Mesob Ethiopian Restaurant – Montclair, NJ. (Photo by Charlene n Kevin)