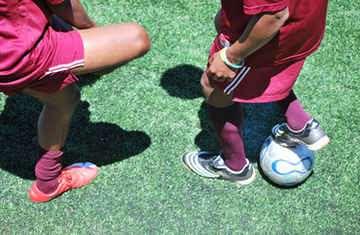 Above: Atlanta edges out Toronto to host the next Ethiopian
Soccer Tournament. (Photo by Kal Kassa/Tadias Magazine file)
Tadias Magazine
By Tadias Staff
Published: Tuesday, September 21, 2010
New York (Tadias) – The Ethiopian Sports Federation in North America has announced that Atlanta will be hosting the organization's soccer tournament for 2011. The tournament site was selected by the group's nine-member Executive Committee.
The federation's spokesperson Fassil Abebe confirmed the decision: "Yes, Atlanta has been selected as the 2011 Tournament/Festival site after carefully considering the bids from Toronto and Atlanta," Fassil told Tadias Magazine.
The 2011 tournament will mark its fourth return to Atlanta. The city's Ethiopian soccer team is also four time champion of the national competition, bringing the trophy home in 1994 and 1997 while winning the cup at home games in 1998 and 2005. Atlanta hosted the ESFNA soccer tournament & festivities in 1986, 1998, and 2005.
The announcement dashes the hopes of the runner-up Ethio Star, Toronto's Ethiopian soccer team, who put up a spirited bid to host the upcoming event.
"After thoroughly examining the proposals from both Atlanta and Toronto, the Executive Committee (EC) has selected Atlanta as the 2011 Tournament site," ESFNA said in a brief statement posted on its website. "The EC and Board of Directors of ESFNA will hold their Winter meeting in Atlanta October 16 and 17, 2010."
The annual gathering, which next year celebrates its 28th anniversary, goes far beyond sports entertainment, allowing families and friends in North America's Ethiopian immigrant community to come together in celebration of sports and their cultural heritage. The tournament week is a popular time for networking, alumni gatherings, small business catering, music performances, and reunion parties. Hosting also offers a variety of benefits to the community, including local economic impact stemming from hotel, transportation, food and other-related purchases.
–
Cover Image: At the 2010 San Jose Ethiopian Soccer Tournament by Kal Kassa.
Related from Tadias archives:
Photo Journal: San Jose Ethiopian Soccer Tournament 2010
–
Photos from Chicago: Ethiopian Soccer Tournament 2009 (Tadias)