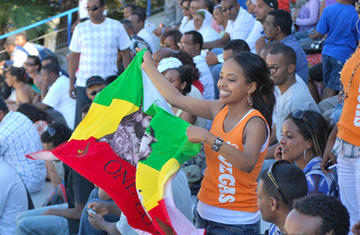 Above: The most recent tournament was held in San Jose, CA
Toronto and Atlanta are the front runners for 2011. (File photo)
Tadias Magazine
By Yeamrot Taddese


Published: Friday, August 13, 2010
Toronto, Canada (Tadias) – The Ethiopian Soccer Federation in North America (ESFNA) was supposed to announce the next soccer tournament host city on July 4 but bidding cities are still waiting for a decision.
Tournament organizers in Toronto said if the delay continues, their city will lose a rate offer from the Royal York Hotel, one of the hotels where discounted reservation has been made to accommodate visitors. "A decision will need to be made very soon to be able to hold the space for [the tournament]," wrote Shelley Crawford, the Account Director of Sports from Tourism Toronto to the organizing committee. "Royal York's offer will expire late August."
Samuel Getachew, the communications director of Toronto's Ethiopian soccer team, Ethio Star, has also been working to complete ESFNA's criteria of a host city. "It has been six weeks and I am now questioning my confidence in working with the federation," he said. He added that he personally believes ESFNA is having a hard time choosing between Toronto and its competition Atlanta. "But leadership is about making decisions."
Getachew, who is running for city councillor in Toronto, said he and his team are still making sure they provide everything ESFNA asks for. If the games don't come to Ontario's capital next year, Getachew said he will resign his post as a member of the organizing committee of tournament.
The organizing team and other Torontonian Ethiopians told Tadias in June that it is about time their city hosted the soccer games. ESFNA must include Canada to live up to its name as a North American sports federation, they had said.
This week, the Ethiopian community in Ontario's capital succeeded in having September officially recognized as Ethiopian Heritage Month by the City of Toronto.
ESFNA spokesperson Fassil Abebe said the delay is a result of some "unfinished business." He said the federation is still seeking supporting documents from Toronto and Atlanta. He added that decision will be made by August 15. The organizing committee in Toronto has not been made aware of this date.
The last time Toronto hosted the games was in 2000 and Atlanta in 2005.
Support of the community to the sports, availability of a large stadium, closing venue and a member team are some of the criteria ESFNA is looking at. Abebe said he will not say what each city currently lacks.
Abebe also said the criticism that ESFNA excludes Canada despite its name does not hold. "There are cities [in the United States] that have never hosted the games," he said. "Yes, it has been 10 years but Toronto has at least hosted the tournament twice." He added that Calgary was one of the four non-member teams which competed to become a member in San Jose this year.
Endale Tufer, Atlanta's tournament organizer said it is not the first time a delay is happening but he said he could not comment about the implications of the hold-up on Atlanta's preparations.
–
Cover Image: At the 2010 San Jose Ethiopian Soccer Tournament by Kal Kassa.
About the Author:
Yeamrot Taddese is a journalism student at the University of Toronto, Canada. She is also a contributing reporter for Tadias Magazine.
Related from Tadias:
Photo Journal: San Jose Ethiopian Soccer Tournament 2010
–
Toronto Says It Has What It Takes to Host the Tournament
Photos from Chicago: Ethiopian Soccer Tournament 2009 (Tadias)